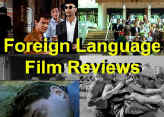 Check out these Foreign language films reviewed at Films on Disc. All have English subtitles. Quality varies, but often these DVDs will be the only chance you have to see some films on DVD.
Amores Perros (SE)/ A-,B

Crouching Tiger Hidden Dragon (SE)/ B+, B+

Deep Red (Profundo Rosso)/ B+, B+

Don't Touch the White Woman/B,C+

Eat, Drink, Man, Woman/ B+, A-

Enigma of Kaspar Hauser/ (SE)/ B+, D+

Like Water for Chocolate/ B+, C

Nelly and Monsieur Arnaud/ B+,B+

Operation Condor: Armour of God II/C+,C+

Our Lady of the Assassins/B+,B+

Vanishing, The/A,B

Why Has Bodhi-Dharma Left For the East?/B,C

Wild Reeds/A-,B



Glenn Erickson's insightful DVD reviews have been a Internet fixture for several years. Check out some of his sophisticated feature articles. Currently hosted by DVD Talk.
---


The home of director Kevin Smith, replete with inside info on his films like Clerks, Mall Rats, Chasing Amy and Dogma.
---


First Run Features boasts a library of independent and foreign features available on DVD and VHS. Check out their web site for catalog details.
---
---


Home Vision Cinema
Classic and foreign motion pictures on VHS tape. The title selection is excellent and informative essays are provided for many of the films.
---


Selections from the Feature Archive include articles on Akira Kurosawa, Blonde Bimbos, Frank Darabont, Steven Culp, John Herzfeld or Vietnam: The Hollywood Pariah, and many more....
The Exquisite Muse of Zhang Yimou



The powerful image-making of Zhang Yimou has revealed itself in virtually every film he has made. Coupled with his remarkable collaboration with actress Gong Li, Zhang's has built a stunning body of work Click the image to read all about it.
---