La Femme Nikita B+,C+
Pioneer/1991/117/WS 2.35
Film stylist Luc Besson finds a perfect match for his talents in the story of a scruffy violent street punk who is trained by the French Secret Police as an assassin. Along with visually stunning camera work, Annie Parrilaud is a perfect Nikita, fragile yet dangerous.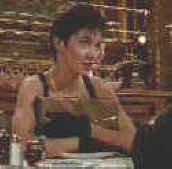 Killer looks. ãTrimark
The DVD improves upon the laser laser incarnation of La Femme Nikita with sharp detail and the absence of color noise. Perhaps there's a bit too much edge enhancement used as some scenes play havoc with the NTSC aliasing artifact. The score by Besson collaborator Eric Serra is as snappy as Nikita's moves.



DVDPlanet is the DVD incarnation of legendary laser retailer Ken Crane's. Deep discounts and serious service.
---


News, information, features about current films in theaters and in the pipeline. Easy to use interface.
---



The Big Combo has style to spare in reviewing films and producing feature articles. Check out their special "Lingo" section.
---


Derek Germano of The Cinema Laser, a one man whirlwind of reviews, just announced the posting of his 600th DVD review .
---


The Feature Archive has articles ranging from Akira Kurosawa to Blonde Bimbos.


Movie Rage: Death in the Aisles
Everyone knows what it feels like to get angry at the movies these days. Here's a humorous but not so delightful view of big screen misery.