Le Magnifique/ B, B
Image/1973/A 1.85
Writer/Director Philippe de Broca knows his way around broad comic territory. He sets the scene in a distinctive and upbeat fashion immediately establishing tone. De Broca throws down a comic gauntlet, announcing with style that you have to accept the silly conceits to enjoy his movie. I decided to go with the flow and was generously rewarded. One thing for sure, Le Magnifique delivers a bloody funny opening.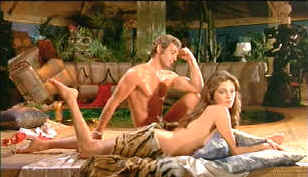 Not a bad fantasy. ŠImage
Super agent Bob Saint-Claire is called in to straighten out a spy mess when a telephone booth tries flying and sailing simultaneously. The bad guys crop up everywhere, in every shape and size imaginable, but Saint-Clare dispatches them faster than a speeding fertile imagination. With a beautiful babe cuddled beside him in his convertible, Bob is the epitome of secret agents, with enough exaggerated kinetic mannerisms to field a comic kit bag.
After all the secret agent posturing, Le Magnifique puts on the breaks and adds a comic layer making the espionage a story within the story. Sitting at a typewriter in his ramshackle Paris apartment Francois Merrin deliriously attacks the keyboard with two fingers creating the manic adventures of Bob Saint-Clare. At first, beautiful neighbor Christine supplies inspiration from afar, but bon chance brings them together. A subplot involving Francois' editor Charron trying to put the make on Christine isn't very funny. Le Magnifique tries hard to find humor in every corner, however the film works best in the fantasy world of Bob Saint-Claire. Nice pacing between the writer's fiction and his own story. Characters from Merrin's life are integrated with good comic effect into his fiction.
Jean-Pierre Belmondo dishes out the silly material with style while overplaying Saint-Clare to delirious comic effect. Jacqueline Bisset is absolutely stunning. She can sway those hips till the cows come home.
Director Philippe de Broca's comic rhythms are very good. He has a great fell for sight gags and he even follows up on the sight gags with layered dialogue. De Broca was also responsible for great super agent spoof That Man from Rio made nine years before Le Magnifique, also starring Belmondo.
Production design is a thorough comic delight right down to the color of Belmondo's cigarettes. Dig that early projection television. The settings are beautiful enough to make you want to hop a plane for lush climes. It's only a momentary glance, but there's a great looking traffic jam that must have taken hours to set up. Costume design provides its own comic moments. Some of the outfits Bisset wears show her off as a hot tropical fruit with peal appeal.
Colors are absolutely lovely. A river of blood flows with rice corpuscle viscosity. Very rich. Grain is exhibited in tight fine patterns. Good black levels, though slightly high in a couple of scenes. The transfer exhibits a consistently good look. Transfer packs plenty of punch from the clean source material. A few scenes are a touch on the soft side. Yellow removable English subtitles are extremely sharp and easy to read. Mono soundtrack is reasonable. There's a little squelching in the mid-range horns, but it is consistently clean.
Reviewed on a Sharp 9000VX DLP Projector


Selections from the Feature Archive include articles on Akira Kurosawa, Frank Darabont, Blonde Bimbos, Hollywood Street Gangs, or Vietnam: The Hollywood Pariah, and many more....
Anthony Quinn


A larger than life screen presence brought joy to audiences for six decades. Anthony Quinn had a rare zest for life that was invested in many of his roles. Long live his memory. Click on the image for a look at his career.
---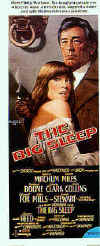 The Movie Poster Archive include extensive poster images from the films of stars like Susan Hayward, Kirk Douglas, Katharine Hepburn and many more. Our featured star is Robert Mitchum
---


The Court Jester/A,A-



Quite simply one of the funniest comedies ever made and the transfer is gorgeous.
---

Brad Lang continues to add more interesting material to the extensive collection at Classic Movies. Everything from actors and actress to your favorite directors is linked at the site.
---
Werner Herzog Film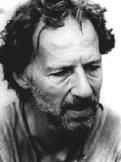 The Web site of director Werner Herzog includes lots of great material. A perfect stop for anyone who admires his films.
---


Comprehensive DVD review database. Easy to use interface with specific region searches.
---
Around The World In Eighty Days
Home Theater Talk is sponsoring a delightfully ingenious contest called Around the World in Eighty Days. Conceived by forum member Jim Long, the contest has a double aim; watching foreign films and sharing them. The general idea is that you watch some films from around the world and keep an on-line diary of them for others to benefit. The reviews will be judged at the end of the contest and the winner will receive a 600 dollar gift certificate to spend at any of Home Theater Talk's sponsors! You win by seeing some fine films and you have the chance of winning the prize of your choice as well. See the "Armchair Director" forum area for the details. We are also giving away an Adire Dharman subwoofer! That's right a free Dharman to the lucky winner. This contest is posted in the "Home Theater Talk" forum area. Go there for all the details. Enter the contest or just join in the fun by reading the diary entries of these cinematic world travelers.
---