Swept Away/B,B-
Fox Lorber/1974/116m
Lina Wertmuller's dissertation on sex and politics with two battling protagonists at each other to the extreme as castaways on a deserted island. The often bristling interaction can be distasteful, especially in the physical abuse of women, but there are some deliciously devious moments that counterbalance the darker aspects of the film. Giancarlo Giannini and Mariangela Melato are the communist and the capitalist, finding their way to survival.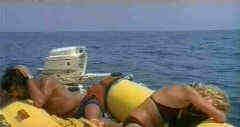 Stuck in the sun. ©Fox Lorber
The widescreen transfer is somewhat grainy, but Wertmuller's style of shooting would suggest that the grain exists in the original source material. Color saturation is good and sharpness is mostly okay. The Dolby 2-Channel sound is free of hiss. The white subtitles are easy to read and appear at the bottom of the image slightly overlapping the black border. They can be turned on or off.


Selections from the feature archive include articles on Akira Kurosawa, Frank Darabont, Blonde Bimbos, Hollywood Street Gangs, or Vietnam: The Hollywood Pariah, and many more...



Screen Voices and style of delivery often stamp an actor's screen image indelibly. Click the lips to read more.
---


Click on the image of The Heistmasters for an interesting feature on the tough guys that pull off the big jobs.
---