Le Professionnel/C,B
Image/1983/104/ANA 1.66
If ever a flick smelled of movie star play-for-pay, it's Le Professionnel. The script is thread-bare, merely an excuse for French movie idol Jean-Paul Belmondo to throw some high kicks and cute comments liberally around. The direction by Georges Lautner is hackneyed. They could have called this one The Amateur without changing a thing.
Belmondo plays Commander Joss Beaumont sent on an African mission to assassinate the president of a former French possession. We first meet Beaumont at his trial at which he faints and is treated with a drug-filled syringe that revives him to obedience. That one made me scratch my head immediately. Joss is sentenced to hard labor. It looks like this might be a prison flick, but very little happens in Africa. Trust me on this, Joss's escape from the prison is none too convincing, and no, I am not giving away the goods.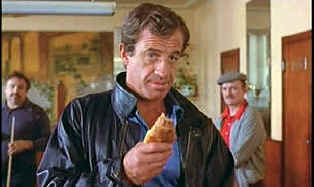 Keep away from my croissant. ŠImage
The heart of the film takes place in Paris on Joss's return. Joss does not report back in to his superiors, to his wife, to his mistress, or his best friend right away, but sends a cryptic message to the military cum police agency that sent him on his assignment. It seems Joss is still bent on carrying out the job and convenience would have it that the same African president is about to arrive in Paris for a trade conference.
Scenes I'd like to excise: Joss slipping in and out of windows to avoid detection by the cops. Paging The Marx Brothers. A totally gratuitous car chase; at least movie car chases usually have a reason behind them. This one doesn't. Joss and the needle. Joss meets the trick.
Belmondo at 48 looks like he's lived a active night life. He's rather long in the tooth for this kind of action stuff, yet he can still hop a wall with effortless power. He does look strong. He tries hard to recall his most debonair screen moments, but his charm has faded and the struggling script doesn't help him out much.
The film looks pretty much uniformly sharp. There's some straight edge artifact interaction, but only on blinds. Color is actually quite good. Belmondo's admirable tan shows up well in every scene. Shadow detail is good. Good depth on blacks.The weakest part of the transfer are the African scenes. They are somewhat washed out and excessively grainy. The white English titles are easy to read and unobtrusive. The Ennio Morricone score is rather thinly recorded in mono.


Selections from the Feature Archive include articles on Akira Kurosawa, Frank Darabont, Blonde Bimbos, Hollywood Street Gangs, or Vietnam: The Hollywood Pariah, and many more....

Film noir: The phrase hangs awkwardly on the tongue, shadowy images peek out from behind half-closed doors. Click on the Noir and Noir Again symbol for a look into the dark spaces of Hollywood's revisiting of film noir.



Excellent resource with DVD reviews, forum and more. Home of the DVD Savant.
---


DVD Price Search
Allows you to create a "Comparison Cart" filled with the DVD titles that you are interested in buying.
---


Mystery writer Fred Hunter digs into classic films on DVD. Check out his insightful reviews at The Classics on DVD.
---


Charade/A,B



Successfully combining romantic comedy and suspense is no small achievement. Charade does it with panache.
---

Click on the DVD MIA symbol for profiles of DVDs missing in action.
Add films to the DVD MIA Master List by filling out a simple form. Click Here