Life on a String/ B+, D-
Kino/1991/107/WS 1.85
What a fabulous mystical opening in the tradition of Chinese ghost stories. Life on a String is an extraordinarily spiritual film. There are many beautiful scenes including a bookend pair at a rural road stop, a magical place by a raging river. I wouldn't mind finding a spot like that for noodles in New York. It's a visual ode to joy when the young village girls encounter the two blind men.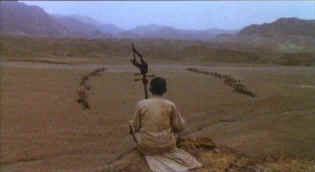 Peaceful spirit between two armies. ŠKino
Old Master, a blind man of unusual spiritual power, leads his blind apprentice Shitou on the road through rural China. Old Master is frail and counts the days when the knots on his string will restore his sight when Shitou will take his place.
Life on a String produces innocence on an absolutely grand scope. Old Master sings in an other-worldly voice. The power of his delivery produces a deep cavernous sound far more powerful than one would imagine from his frail stature. He commands the stage as he entertains enraptured villagers by firelight. The striking visual power of the power is balanced by fine characterizations. The relationship between Old Master and Shitou is wonderful as is Shitou's charming courtship of Lanxiu.
Chen Kaige makes Life on a String almost with a painter's brush rather than a camera. The narrative style is very different, like the light strains of a flute caught on the wind. Cinematography by Changwei Gu captures the sweep of Kaige's vision with majestic compositions as when Old Master sits atop a mountain knoll like a king framed between two warring clans as they square off against one another in battle. The mystery is embellished by the fine score of Xiao-Song Qu.
Zhongyuan Liu is an other-worldly force as the Old Master and Lei Huang is a wonderful innocent discovering the breadth of life as Shitou. All the actors are most natural under Chen Kaige's direction.
There are times when the composition looks almost as if this could have been shot 2.35 and has been cropped, but I am probably wrong. Very heavy grain and washed out color permeate the transfer. Poor definition is the norm in this sad DVD rendering. Soft focus pretty much throughout. Jitter is the rule here for any straight edge surfaces. This is bad enough to look like it's sourced from 3/4 inch tape. The image is grossly enhanced with lots of edge ringing in desperation to extract some measure of sharpness fromt he source material. The music is quite full with good range. In the end, the transfer must be ignored. It's a shame that such a beautifully shot film should get such shabby treatment on DVD.


Selections from the Feature Archive include articles on Akira Kurosawa, Blonde Bimbos, Frank Darabont, Steven Culp, John Herzfeld or Vietnam: The Hollywood Pariah, and many more....
Hitchcock on DVD



Information and review links to Alfred Hitchcock on DVD
---

Runaway Train/B+,B



From an Akira Kurosawa screenplay. Jon Voight is fantastic as fierce habitual criminal Oscar "Manny" Mannheim. A smile to remember with ferocious non-stop action.
---


Have you visited Home Theater Talk lately? One of the friendliest places on the Net for Home Theater and DVD discussion, you can get help for installation problems or simply share your opinions with other Vidiots.
---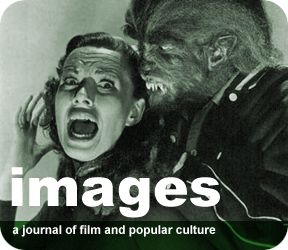 Images is a non-commercial Web site created for everyone who enjoys movies and popular culture. Images is published quarterly; however, new reviews will appear each week, so check back often.
---

Lovers of Hong Kong movies will relish MC4's site that includes reviews and other information about the Hong Kong movie scene.
---