Shanghai Triad/A-,C+
Columbia/1994/107/ANA 1.85
The brilliance of director Zhang Yimou is once again realized with Shanghai Triad. Zhang's virtuosity plays brilliantly in the city or the provinces. This time out Zhang delivers something akin to a Warner's 1940's gangster melodrama with the added layer of a studied examination of mores and political matter. It is shot differently than any of Zhang's other films, much of it heavily filtered, creating a nostalgic look for 1930's Shanghai.
A young boy, Shuisheng, comes to Shanghai to work for the family gang. He is given to Bijou, the boss's moll, as a personal servant. The perspectives in Shanghai Triad are all through the boys eyes. This is Zhang's vision of lost innocence as the boy witnesses a ruthless fight for the control of the mob which eventually entangles the beautiful Bijou.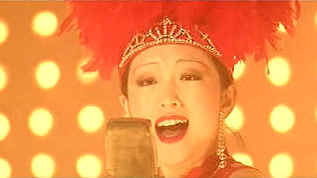 Gong Li weaves an enchanting dance hall number. ©Columbia
Bijou is played with chilling aplomb by glorious Gong Li. As Shanghai's popular chanteuse, Li wiggles her way through some entertaining cabaret numbers, juggles her lovers, and moves through the film with imperial swagger. By the time her icy veneer begins to melt, it is clearly too late for her redemption. Li Baotian is laughs a crooked smile with grand malevolence as the boss of the Tang gang. Young Xiaoxiao Wang keeps his cool under the perusal of Zhang's probing camera.
Shanghai Triad is such a beautifully shot film. The moody photography is often so diffuse that it appears soft. Unfortunately, on this DVD transfer, far too much edge enhancement has been used in an attempt to add detail, contrary to the intent of the director. Nothing is all that clear in Shanghai Triad except the overpowering stench of corruption. The haunting images are delivered with dreamlike precision. The camera is often close enough to the actors and you catch reflections in their eyes. Colors are very delicate and the various mood sections are accurately reproduced. The lovely score echoes with ringing clarity in the background on this excellent Dolby Digital 2-channel surround mix. White English titles are easy to read over the image and are removable.



DVDPlanet is the DVD incarnation of legendary laser retailer Ken Crane's. Deep discounts and serious service.
---

Direct from the corridors of the Home Theater Forum, Home Theater Talk is the newest place on the Net to discuss everything home theater. Friendly atmosphere and knowledgeable folks are the secret ingredients.
---


Home Vision Cinema
Classic and foreign motion pictures on VHS tape. The title selection is excellent and informative essays are provided for many of the films.
---


The publication you can't do without if your interested in Movie Posters.
---


Selections from the Feature Archive include articles on Akira Kurosawa, Frank Darabont, Blonde Bimbos, Hollywood Street Gangs, or Vietnam: The Hollywood Pariah, and many more....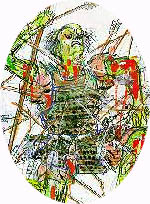 Click on the image above for an original view of Akira Kurosawa's work
---