Crimson Rivers (SE) /B,B-
Columbia/2000/105/ANA 2.35
Two detectives track vastly different crimes in the provincial French mountains. What does a desecrated tomb in the village of Sarzac have to do with a mutilation murder in the university town of Guernon some sixty miles away? Crimson Rivers explores the crimes and takes some time to develop characters with a measure of individuality. It's a serial killer flick directed by Matthew Kassovitz, one of France's hot cinema youngbloods.
Jean Reno plays legendary Parisian Lieutenant Pierre Niemans called to Guernon to investigate a horrible crime. Vincent Cassel is the younger hip Paris cop Max Kerkerian on assignment in Sarzac. Reno is the epitome of cool, methodically pursuing his investigation, while Cassel is a bundle of frazzled energy. They are a good combination. The plotting gets somewhat hokey however, and the wrap-up is absurdly sophomoric.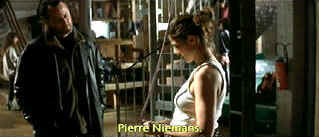 Serial killer hunter meets avalanche expert. ©Columbia
Kassovitz films Crimson Rivers with a familiar but effective point of view style of camera. The editing and pace are polished. The script is inconsistent. Interesting characters are pitted against boring cardboard cliché figures. Ultimately, the cool characters win out over the bad thriller elements There's one especially unfortunate altercation with local skinheads that stops the movie dead in its tracks. Too bad the scripting was not as agile as the the dumb martial arts diversion in that scene. A good score helps moves action effectively.
The flick's natural feel for this flick is pure gloss, however, the transfer is not quite as polished as I would have liked. Black level is all right, but it too could have provided more sparkle. Most scenes are reasonably sharp. Colors are inconsistently saturated without hurting the overall look of the film. Lots of snow sequences are difficult to capture or transfer with perfect exposure. Dark interior shadow details are slightly pinched in range. Yellow English subtitles provide a reasonable translation. The English dubbing is pretty good if you care to use it with Reno dubbing himself.
Crimson Rivers is delivered as a wounded special edition. Audio commentary by director Kassovitz is in French with no accompanying translation titles. The fifty minute documentary is very good and is titled as are the additional shorts. There's also a story board section.


Selections from the Feature Archive include articles on Akira Kurosawa, Blonde Bimbos, Frank Darabont, Steven Culp, John Herzfeld or Vietnam: The Hollywood Pariah, and many more....
Hitchcock on DVD



Information and review links to Alfred Hitchcock on DVD
---



Glenn Erickson's insightful DVD reviews have been a Internet fixture for several years. Check out some of his sophisticated feature articles. Currently hosted by DVD Talk.
---

Have you visited Home Theater Talk lately? One of the friendliest places on the Net for Home Theater and DVD discussion, you can get help for installation problems or simply share your opinions with other Vidiots.
---


A new entry in the 2001 home theater site sweepstakes. Chief focus on hardware reviews with a smattering of software.
---


An on-line Home Theater magazine with excellent hardware reviews, including thorough and responsible research. Check it out.
---