A Taste of Cherry/A-,B
Criterion/1997/95/WS 1.66
The award winning film from Iran's pre-eminent filmmaker, Abbas Kiarostami, A Taste of Cherry will not be to everyone's taste. I found it fascinating. To travel so far metaphorically in a slightly beaten up Land Rover in the course of a 100 minute movie is quite an achievement. Most of the movie takes place in the front seat of the aforementioned vehicle and almost all the dialogue is spoken as a one-shot. In his circuitous route around the hills of Teheran, Mr. Badii encounters a cross section of Iranian people, interacting with them either when they join him as passengers or along the side of the road. You see what Badii sees through the dust and construction and crowded streets. How could this philosophical film remain so riveting? How could the image of a man driving a car become such a memorable and indelible film image for me. I will no doubt ask myself these questions for many years to come whenever I think of this wonderful film from Iran. What drives a man to the point of suicide? When does such a personal act begin to reflect the shortcomings in a society? Measuring one's own perspective through the eyes of others can be indeed eye opening. My suggestion, take this ride with in director Abbas Kiarostami's film. The drive may appear fairly straight forward, but the emotional detours are unexpected and the story-telling is powerfully unusual.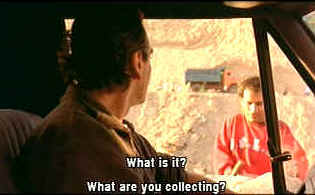 Badii meets a collector. ©Criterion
The transfer is surprising good considering that source pristine source material may have been hard to come by. Detail is fine, but this is an early Criterion release when their position regarding anamorphic transfers was backwards. Colors are probably determined by the source material: they appear accurate, almost toasted by the heat of Iran. Black level is good, shadow detail revealing, but again, it has no significant impact on the effectiveness of the narrative. Dolby Digital 2 channel mono sound is adequate. Included is an almost twenty minute interview with Kiarostami. He does admit to self censorship at one point. One must wonder how free the director is to express his feelings given that he wants to continue to work in Iran. White English titles are optional.

Jou Du/A,B-


A sexy Chinese noir. Bold colors paint stirring emotions in a small provincial town.
---


Gary Morris's insightful publication Bright Lights Film Journal turns the celluloid in films from a unique perspective. Click on the image above for more pure movie views.
---

Sight and Sound Magazine is the venerable voice of The British Film Institute. The site includes articles and film reviews. A great resource in print and on the Internet.
---

Kinoeye Archive
This is a resource of all content-rich materials on the web relating to Central and East European cinema. The ultimate aim of the Kinoeye Archive is to provide a near-as-damn-it definitive index of intelligent and thoughtful English-language analysis of Central and Eastern European cinema on the web.
---


European film portal and hard to find video store.
---


The AV Science Forum provides great feedback on the latest home theater equipment with a wide range of opinions. Outstanding home theater resource.
---


Selections from the Feature Archive include articles on Akira Kurosawa, Frank Darabont, Blonde Bimbos, Hollywood Street Gangs, or Vietnam: The Hollywood Pariah, and many more....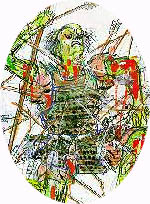 Click on the image above for an original view of Akira Kurosawa's work
---