B,BRun Lola Run(SE)/B+,A-
Columbia/1998/81m/ANA 1.85
Wow! The breathless pace of Run Lola Run is positively exhausting, stimulating and inspiring. German Tom Tykwer has scripted and directed a wonderfully original film, taking a Rashomon-like look at a desperate race for survival.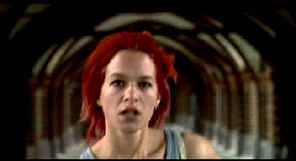 Running with spirals. ©Columbia
In some ways, Run Lola Run plays out like a new interactive video game where you might get to makes choices as you move through the film. Of course, the filmmaker makes the choices in this case. Technically, Run Lola Run is consistently dynamic. Tykwer marries a visual style that compliments the frenetic pace of his storytelling. Integrating brash cartoon graphics with the whirlwind race through Berlin's streets works without taking you out of the action.
Chance plays the biggest part in Run Lola Run and is emphasized at every turn by writer/director Tykwer. The moral of the story may be never lose the bag money you have to deliver to your mob boss. You may have to rob a bank or heist a casino in order to deliver the goods. With a techno-rock soundtrack driving with the same ferocious abandon as the camera, the camera protagonists are propelled forward with delicious fury.
Columbia has included an audio commentary from director Tykwer and star Franke Potente. The friendly film principals are relaxed in sharing some of the experience of making Run Lola Run. You can learn of the the director's Vertigo fascination, note an illusion to Village of the Damned, and catch details that you might otherwise miss in the swift developing action.
The transfer is beautiful save for a few errant marks that pass by with momentary notice. You can watch Run Lola Run in the original German language version, with or without English titles, or even in a dubbed English version. The titles are easy to read. The score by Johnny Klimek and Reinhold Heil is delivered in Dolby Digital 5:1 in appropriately crunching style. A music video and theatrical trailer complete the package.

The Feature Archive has articles ranging from A Western is a Western is a Western to Screen Voices, The Heistmasters, Akira Kurosawa, film preservationist Robert Harris and Shawshank Redemption director Frank Darabont.



Film Preservationist Robert Harris talks to Films on Disc. Click on the image to learn more.
---



Home to The American Society of Cinematographers. Includes features from American Cinematographer Magazine and more...
---

Sight and Sound Magazine is the venerable voice of The British Film Institute. The site includes articles and film reviews. A great resource in print and on the Internet.
---


DVDinsider is a daily email publication targeting the DVD Industry Professional. The publication includes current news, events, stock prices and more.
---

Need a daily fix of movie quotes. Reel Quotes Newsletter has the answer. Click on the Reel Quotes symbol symbol for more.
---

The Movie Poster Archive include extensive poster images from the films of stars like Susan Hayward, Kirk Douglas, Katharine Hepburn and many more. This month's featured star is Susan Hayward
---