A Better Tomorrow/A-,C-
Media Asia/1986/95m/WS 2.35
Watching A Better Tomorrow, I found myself being seduced all over again by the mixture of polish and raw energy of John Woo's Hong Kong films. This, the first of Woo's gangster flicks, begins to shape and define his style for the genre. The mixture of blood and emotion are a feast balanced by a terrific chef.
Friendship and honor amongst thieves is at the core of A Better Tomorrow. It also looks at the paths created by the same environment as two brothers function on opposite sides of the law. Ti Lung is the big brother Ho who turns from a life of crime when his father is killed in a gangland power play. Kit, a rookie Hong Kong cop played by Leslie Cheung, blames older brother Ho for Dad's death.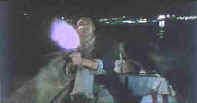 Chow Yun-Fat's Mark is by far the most appealing of the leads playing Ho's best friend and partner in crime. When Ho goes straight it takes enormous willpower for the free spirited Mark to make the break from crime as well. But loyalty prevails throughout these Hong Kong shoot-outs and hand to hand fights.
In terms of Woo's style, you can see that A Better Tomorrow is just a beginning for more inspired choreographed bullet ballets. The big set piece at the docks is well done and though as in all Woo shoot-outs, it stretches reality, the blood and guts mixed with emotion is an enticing combination.
You'd better turn the brightness down big time on this Hong Kong import disc as the transfer is a mismanaged affair. There are a number of soft scenes and even with monitor adjustments, contrast levels are less than acceptable. The the subtitles come at you rapid fire, but probably the worst affront is the Dolby Digital 5:1 remix. It's thoroughly tinny, often emphasizing the wrong sounds. Gun shots, so important to the Woo ambiance, are poorly done. There were some hang-ups and blocking artifacts during the trailer presentation on my Toshiba 3006 while the Sony 700) played flawlessly. I couldn't manually skip chapters but needed to access the menu for chapter selection. Perhaps Tai-Seng or Voyager will come up with a future release of A Better Tomorrow that serves the film better, but until then, this is still a very enjoyable film that I wouldn't want to want long to see.



Apocalypse Now is Coppola's distorted vision of war now on DVD in gorgeous anamorphic images.
---


Tucker: The Man and His Dream is beautifully filmed with loving attention to detail.
---


Selections from the feature archive include articles on Akira Kurosawa, Frank Darabont, Blonde Bimbos, Hollywood Street Gangs, or Vietnam: The Hollywood Pariah, and many more....
Sturges Emerges


Preston Sturges was Hollywood's resident comic genius for more than a decade. His movies are timeless. Click on his image to read all about it.
---

Why do Al Pacino, Gene Hackman, Pat O'Brien and Goldie Hawn fall into a select group of actors? Find out more by clicking the Hollywood on the Sidelines symbol.
---


Movie Rage: Death in the Aisles
Everyone knows what it feels like to get angry at the movies these days. Here's a humorous but not so delightful view of big screen misery.
---



DVDPlanet is the DVD incarnation of legendary laser retailer Ken Crane's. Deep discounts and serious service.
---


Elegant DVD portal with news, reviews, links and information galore.


Many movie related links in an easy interface. You can even rate the sites.
---


Great site for DVD followers. Lots of information, some speculation, opinion, and reviews all bundled in a sparkling interface.

---