Dinner Game,The/B+,A-
Universal/1999/81/ANA 2.35
Find a man with the dedication to build a model of the Eiffel Tower constructed of almost 350,000 matchsticks and you've found someone who can cast aside all distractions to pursue his own purpose. You'll also find someone totally oblivious to everything around him, to such an extent that to the world he appears to be an idiot. When Pierre Brochant, a Paris publisher with a penchant for The Dinner Game. finds master matchstick builder Francois Pignon, he may just have stepped in his own idiot trap.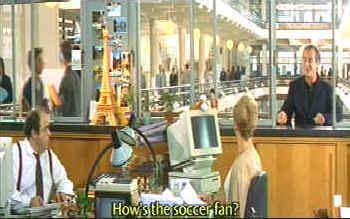 Pignon displays the Eiffel Tower in his office. ŠUniversal
A group of sophisticated Parisian smart-setters have a special weekly dinner together. There's only one requirement and it's not bring you own bottle. It's bring your own idiot. The idiots, you see, are the evening's entertainment. And the group is so self satisfied that they never let the idiots know they are making fun of them. Someone's being set up for a well-deserved slip on a banana peel.
Brochant decides to invite idiot Pignon to his apartment for a preprandial drink and for his own private fun before sharing him with The Dinner Game crew. But everything is falling apart for Brochant. He even puts the game before the needs of his beautiful wife, which provides a platform for much of the merriment. Unfortunately, the perfect idiot is the one man to drive Brochant crazy enough to jump off a model of the Eiffel Tower.
Yes, The Dinner Game is a one joke movie; much like Bean, a film that gets a subtle nod from the director, it depends on the imbecilic behavior of its resident idiot. The execution and timing are flawless. Though the film plays mostly in one apartment set, the laughter works at such a frenetic pace that you barely realize the film is actually stage bound.
Writer/Director Francois Veber takes off with his Dinner Game premise and finds one inventive situation after another to torment Brochant. My stomach still hurts from laughing.
Francois Pignon is played with bumbling innocence and old dog eyes by Jacques Villert. The stout and somewhat sweaty actor delights in taking every situation to its zaniest conclusion. Thierry L'hermitte is the great straight man in pain. Yes, deserves his pain, but that's part of the delight. Adding to the excellent company is Francois Huster who plays Brochant's ex-best friend with infectious laughter, and Daniel Provost, as a tax auditor extraordinaire with a taste for fine wine.
Bright interior images sparkle on the The Dinner Game DVD. Contrast range provides theatrical snap tot he images. Details of the apartment are sharply resolved. Transfer elements are perfectly clean. Color is vibrant and perfectly controlled. Yellow English subtitles appear on the image and the translation preserved the timing essential to the humor.

The Movie Poster Archive include extensive poster images from the films of stars like Susan Hayward, Kirk Douglas, Katharine Hepburn and many more. Our featured star is Danny Kaye.
---


Selections from the feature archive include articles on Akira Kurosawa, Frank Darabont, Blonde Bimbos, Hollywood Street Gangs, or Vietnam: The Hollywood Pariah, and many more....
Sturges Emerges


Preston Sturges was Hollywood's resident comic genius for more than a decade. His movies are timeless. Click on his image to read all about it.
---


They may be judgmental, but that's the point, isn't it. Lots of DVD reviews plus news and more.


Click on the link to visit the judge's chambers.
---

A love of movies drives this small DVD production company, Synapse Films. Currently specializing in horror and cult films. Watch for new DVD releases of film festival independents as Synapse branches out.
---
culturevulture.net
More than just candid film reviews, culturevulture looks at art, theater, dance and more. Worth a visit and a bookmark
---

Need a daily fix of movie quotes. Reel Quotes Newsletter has the answer. Click on the Reel Quotes symbol for more.