Audition (SE)/A-, B
American Cinematheque/1999/115/WS 1.85
Every once in a while a film comes around that leaves you gaping with slack jaw and open mouth, unable to speak: Audition is that kind of film. It takes you by surprise. It leaves a disquieting feeling that there are things in this world you don't want to know about. This is not an easy film to watch as it takes its severe turns. One should approach Audition with great trepidation. You need a strong stomach to get through it all.
Even when Audition is at its most conventional, it's not conventional. What begins as a standard domestic drama turns into a haunting romantic tale about the hope for late love for relatively young widower Aoyama. He finds his "dream girl" through a theatrical audition set up by a business colleague. Aoyama is one square guy. He's apparently a dedicated family man. Since his wife's untimely death years before he has lavished great attention on his one son and at the same time dedicated himself, or even buried himself, at work. The embers of normal life have been smothered by the need bury emotions. But an innocent remark from his son sets him on a path to find a new wife and everything changes.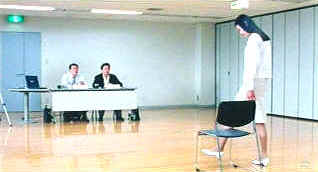 Audition for a girl in a white dress. ©American Cinematheque
Asami's resume catches at Aoyama's heart even before he meets her at the audition. She's the girl proverbial in the white dress. With the introduction of Asami's tale, strangely haunting from the first, Audition takes on hints of a ghost story. Still, it's not a ghost story. It's different. It's almost different from anything I have seen. In the end, I was not quite sure where Audition took me, only that it took me by the throat with its shocking style.
A thoroughly engrossing film. At times it may be somewhat confusing, but it is never short of riveting. Audition is very Japanese in its sensibilities. The overall ghost story feeling builds like a distorted Noh play. The graphic violence harks back to some vicious Japanese films of the past like Shohei Imamura's 1979
Vengeance is Mine. Clearly, there are sadomasochistic strands permeating Audition. And Audition has strong surreal influences.
Director Takashi Miike is unflinching in his vision. Characters are well drawn and very interesting even before Audition's engine revs up with a violent throttle. Certainly the situation is quite an interesting portrait of loneliness, hopes, and desires. Miike is audacious is his use of imagery. The way he combines disparate elements adds up to a unique experience. The pacing is hauntingly even, a most methodical. When tone changes or when there are surprises, the pacing still marches forward with same metronome precision. It's almost as if Aoyama is possessed by some terrible spirit. When the romantic inclination takes hold of him, he can''t quite control himself. Even when there appear to be warnings, he ignores them.
The actors are very effective. Ryo Ishibashi is so plain and mundane as Aoyama. It's a simple convincing performance. Eihi Shiina is like a delicate flower slowly rotting as Asami Yamazaki.
Audition does leave itself open to various interpretations. One can make their own call as to the true outcome of the film. However, there probably is good evidence to support one particular ending. What is reality. What is fantasy, dreams, nightmares?
It's somewhat disappointing that the DVD was not anamorphic, but the transfer is quite good. It's a clean transfer. There are no offensive NTSC artifacts like straight edge jitter. Stable image, stable colors. There is some fine grain delivered very tightly. The Yellow English titles overlap the image partially and fall into the black letterbox area thereby preventing use of the zoom feature to blow the image up to fill a 16 x 9 screen. The Japanese Dolby Digital 5:1 Surround track was rather on the loud side and I dropped it down about 8 dB to find a comfortable listening level. Black levels are good, shadow detail is well executed. The image is sharp. It's very consistent from scene to scene.
Dennis Bartok and Chris Dee, programmers for the American Cinematheque, conduct a video interview (Approx 24 minutes) with Takashi Miike. Miike speaks in Japanese and his comments are translated. There's also a translated commentary track from Miike that begins at chapter 18 and lasts for 36 minutes.
Trust me: Audition is not a film that will be easy to forget. While there are inclinations to turn your head from the screen, it won't be easy to take your eyes from the screen either. Audition will remain with you, almost haunting you as Aoyama is haunted. Hopefully, it will not take possession of you.


Selections from the Feature Archive include articles on Akira Kurosawa, Blonde Bimbos, Frank Darabont, Steven Culp, John Herzfeld or Vietnam: The Hollywood Pariah, and many more....
The Exquisite Muse of Zhang Yimou



The powerful image-making of Zhang Yimou has revealed itself in virtually every film he has made. Coupled with his remarkable collaboration with actress Gong Li, Zhang's has built a stunning body of work Click the image to read all about it.
---


Have you visited Home Theater Talk lately? One of the friendliest places on the Net for Home Theater and DVD discussion, you can get help for installation problems or simply share your opinions with other Vidiots.
---

The Cinematheque is a cultural, arts organization that programs year-round specialty film series at the newly renovated, landmark 1922 Egyptian Theatre on Hollywood Boulevard!
---


ISF Course Instructors Jim Burns and Kevin Miller are hosting the Digital Film Forum. Join professionals and enthusiasts for lively home theater discussion.
---

Kinoeye Archive
This is a resource of all content-rich materials on the web relating to Central and East European cinema. The ultimate aim of the Kinoeye Archive is to provide a near-as-damn-it definitive index of intelligent and thoughtful English-language analysis of Central and Eastern European cinema on the web.
---


Home Vision Cinema
Classic and foreign motion pictures on VHS tape. The title selection is excellent and informative essays are provided for many of the films.
---


DVD links, information about Web specials, news, Site reviews.
---

Vanishing, The/A,B


Like a perfect short tale from Poe. Not typical fare digested by American audiences. The Vanishing, a film that ranks with classics of the genre, must be considered a collectible. In Dutch with English subtitles.
---


I just love to watch the FBI Warning and that isn't enough, I am treated to a graphic designer's wet logo dream.
FBI Warning/
Logo Wars
---