My Favorite Season/B+,C+
Fox Lorber/1996/122m
Andre Techine's fascination with family continues in My Favorite Season, as the director examines the relationship of a brother and sister under pressure from many directions. The necessity of placing their mother in a nursing home brings matters to a head and Emilie's family is stretched to the breaking point with her brother Antoine as a prime catalyst. Typically Techine's characters are searching for their way through the complexities of life. One of the remarkable aspects of this film is how casual yet maturely the subject matter is treated. While there are emotional explosions to highlight the story, this is a story about people.
Both Catherine Deneuve and Daniel Auteuil are on familiar ground in bringing Techine's characters to life. The mature Deneuve is still beautiful and her range as an actress seems to keep expanding. Auteuil, ever the provocateur on screen is a great match to Deneuve. The surrounding characters are all terrific as well.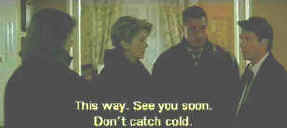 Antoine the catalyst.©Fox Lorber
The widescreen 1.85 transfer lacks luster, partly due to the low key shooting style of Techine for this film. Contrast ratio lacks power and the overall transfer could have been brighter. Some scenes have a slightly fuzzy appearance. The Dolby 2 channel stereo is fine.


Selections from the feature archive include articles on Akira Kurosawa, Frank Darabont, Blonde Bimbos, Hollywood Street Gangs, or Vietnam: The Hollywood Pariah, and many more....


Catch the Hollywood take on Blonde Bimbos by clicking on the image above.
---



You won't want to miss the online iF Magazine. You may have guessed iF stands for independent film.
---


Fine reviews, features and news on DVD. The Big Picture has been doing DVD as long as anyone. Jeff McNeal and Bob Banka feed on a steady diet of DVDs.
---