Seeking Asylum/C,C-
Image/1972/110m/Cropped 1.33
Roberto becomes a pre-school teacher and brings his unusual point of view to the classroom. How he gets a way with acts bordering on insanely irresponsible is beyond my comprehension and beyond the logic of the movie. Directed by Marco Ferreri and written by Ferreri, Gerard Brach and Roberto Benigni, who also stars, many scenes appear improvised. While they are fresh and often innocent, they are also ragged and less engaging dramatically than they might have been.
Visually, the movie picks up significantly when it leaves the city for the shores of Sardinia, but that section is all too brief. While the major crisis of the film resolves itself with predictability, the filmmakers have decide to move in a mystical direction beyond my ken. Symbolism needs solid structure and Seeking Asylum has little of that.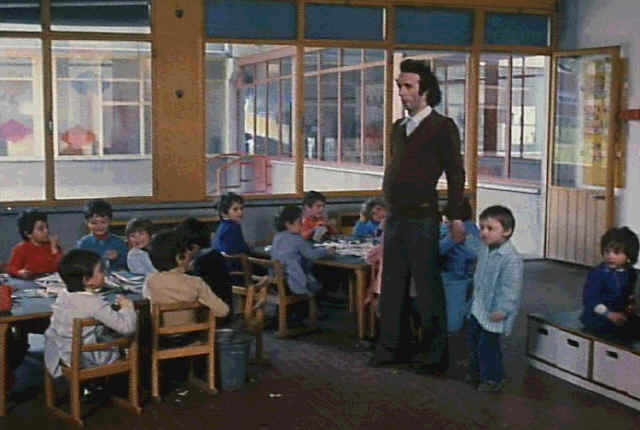 Benigni teaches the kids about pregnancytŠImage
Don't expect the manic performance Benigni worshippers love. Roberto is rather reserved(for Roberto)in Seeking Asylum. I think it may have be related to playing with all the young children. An out of control Benigni may have may have made it impossible to work with all those young children. Benigni is almost always charming, but I miss the explosion of energy that imbued Johnny Steccino and Life is Beautiful with a unique comic excitement. I am one of the worshippers that enjoy to watch Benigni going through the paces of his profession and even in this strange brew, Benigni is pleasing. It's always great to see him leap over his girlfriend to the far side of the bed with the grace of the great clowns.
There is some very questionable subject matter contained in Seeking Asylum. In a country where kidnapping has been a major problem, Roberto charms his pupils away from parents and safe haven with all too cavalier an attitude.
Presented with very slight letterbox bands, the film is obviously cropped from 1.66 elements compromising a number of scenes that might have otherwise played differently. Horizontal pans are riddled with jumpiness, though this stems from the transfer elements since the yellow English subtitles are rock steady. Heavy grain in the earliest scenes suggests this will be tough viewing, but other than a slight jitter in the grainier scenes, it's not too bad. Color is acceptable. Contrast seems slightly blown out washing out detail. In darker scenes, brightness levels are sometimes marginal. At least the DVD does not have an overenhanced digital look. That's a saver! The sound is thin but acceptable.
.
Home Theater Reference System

Laser discs and DVDs are evaluated on the following current home theater equipment: Stewart 6' x 11' Videomatte 1.33 Gain Screen, 2 Runco 980 Ultra Projectors stacked, Faroudja LD100 Line Doubler, Lexicon DC1 Surround Processor/Switcher, 2 Pioneeer Elite CLD-97 Laser Disc Players with AC-3 Modification, Sony 7000 DVD Player, Toshiba SD-3006 DVD Player, Total Media Systems Reference Home Theater Suite, LR Fronts, Center, LR Sides, LR Rears, 2 Velodyne F1500R Subwoofers, Sunfire Cinema Grand5 Channel Amp, Sunfire 2 Channel Amp, Lexicon RF Demodulator, Lexicon T-500 System Remote Control, Speaker Wire and Interconnects by Straight Wire.
HOT LINKS

The American Widescreen Museum
The wealth of information about widescreen movies is presented in a intelligent and easy to understand interface. Color in movies is given a similar treatment.

Robert Harris is part of the dynamic duo that restored Lawrence of Arabia, Spartacus, My Fair Lady and Vertigo. Harris rides a white horse into the battle to preserve our film legacy. Click on the image to read more.
Check out the Movie Poster Archive for short bios and images of Susan Hayward, Kirk Douglas, Katharine Hepburn and many more. This month's featured star is John Wayne. The Feature Archive has articles ranging from Akira Kurosawa to Blonde Bimbos and John Ford.



Click on the image of The Heistmasters for an interesting feature on the tough guys that pull off the big jobs.