Tampopo/A-,C+
Fox Lorber/1987/114m/WS 1.85
An adventure in search of the perfect noodle may be a limp conceit when properly prepared, but the potential for slurping hilarity is rolled out to perfection in Juzo Itami's masterful Tampopo. Much of the humor is particular to Japan, yet the film's manages to cross the international noodle line with little loss of sauce.
Describing the plot of Tampopo is like preparing a complex meal. Food is at the obsessive center of this universe, noodles in particular. Itami's meal of laughter consists of straightforward story telling for the main course with side dishes and appetizers off the beaten course. Itami satirizes every film genre from Westerns and Samurai epics, and takes special delight in skewering avant-garde filmmakers.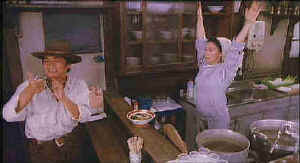 Goro clocks in Tampopo. ©Fox Lorber
And, for the main course, Goro, a rough and ready big-rig trucker, one rainy night saunters into the world of bashful would-be noodle queen Tampopo. When Goro and his friends criticize Tampopo's noodle art, they take up her challenge of teaching her the path to noodle nirvana. The quest for this perfect bowl of soup sends these Japanese crusaders in search of the greatest living noodle experts, parodying The Seven Samurai. Even the art of eating a bowl of noodle soup is elegantly dissected with all the style and elucidation of a wine master. The film is spiced with brawls and blood and some outrageous erotic eating obvious enough to convert legions to anorexia. The noodle sound effects are wonderful. Try eating a bowl of your own noodle soup while watching Tampopo.
Nobuko Miyamoto plays Tampopo with the determination of a fighter training for a championship bout. Playing in a mist of steaming soup, she never loses her cool. And talk about cool, Nobuko Miyamoto infuses Goro with a perfect balance of swagger, a left hook, and a broad wink. The line-up of supporting soup slurpers does a fine job of sucking up noodles.
Tampopo is not a great bowl of DVD soup. Some scenes are slightly washed out and others are soft. There is excess edge enhancement used to extract more than the transfer elements can offer. The colors do have enough life to bring a bowl of noodle to soup to simmering life. The white subtitles appear on the 1.85 image and are removable. The Dolby Digital 2-channel sound is tinny, but somehow seems appropriate to the mood of the film.
©Columbia