Irma Vep/B+,B+
Fox Lorber/1996/96m
Maggie Cheung, Hong Kong action star, plays herself in this savvy French production about remaking a classic French silent film. Fans of Hong Kong genre flicks will love glimpsing a scene from The Heroic Trio, as the filmmakers set the scene for Maggie's arrival in Paris to star as the exotic, latex-clad heroine Irma Vep(A cryptogram for vampire).Once she arrives, we get to watch the production in action, and enjoy writer and director Olivier Assayas' wry take on making movies.
Cheung is a delightful presence on screen and brings a needed measure of energy to Irma Vep. She musters the right combination of innocence, wonder, and above all, communicates a sense of having fun with this film. Jean-Pierre Leaud is good in the role of the director of Irma Vep and Nathalie Richard performs amiably as a harassed set designer who has other designs on Maggie.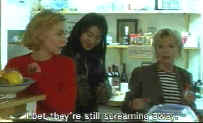 Maggie in the middle.©Fox Lorber
Some of the nicest scenes in the film are the casual camaraderie of crew members making the movie within the movie. There is an especially rich after hours dinner that captures the energy and excitement of being involved in filmmaking.
This is the best looking transfer I have seen from Fox Lorber thus far. The widescreen 1.66:1 image is consistently luminous, colors bright, and detail rendered fully throughout the disc. The source material is apparently excellent and there are no obvious compression artifacts. Take a chance on this eccentric movie. It will pay dividends in smile.



DVDPlanet is the DVD incarnation of legendary laser retailer Ken Crane's. Deep discounts and serious service.
---


News, information, features about current films in theaters and in the pipeline. Easy to use interface.
---



The Big Combo has style to spare in reviewing films and producing feature articles. Check out their special "Lingo" section.
---


Derek Germano of The Cinema Laser, a one man whirlwind of reviews, just announced the posting of his 600th DVD review .
---


The Feature Archive has articles ranging from Akira Kurosawa to Blonde Bimbos.


Movie Rage: Death in the Aisles
Everyone knows what it feels like to get angry at the movies these days. Here's a humorous but not so delightful view of big screen misery.