Joy House (Les Felins)/B, C+
Image/1964/91/ANA 2.35/BW
The French seem to have a patent on clever cat and mouse suspense dramas. Maybe it's the settings on the coast of France that make for perfect suspense ambiance; but whatever the reason, the pleasures extracted from these tightly played out films are universal.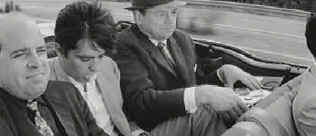 A nice ride through the French countryside. ŠImage
Joy House (Les Felins), directed by veteran suspense master Rene Clement (Purple Noon), stars out with crisp Film Noir strokes. A powerful American man in a business suit questions his wife about the affair she had with a younger man. He walks the hotel rooms with her and then orders his henchmen to Europe to bring him the head of the offending gigolo.
Marc is working his magic in Paris when he is quickly trapped like a rat in his hotel room by the trio of hunters. While one works him over in a hot bath, another takes photographs and the third bandies a tape recorder at the gasping Marc. They want to record the evidence of his transgressions and bring this back to the man in the States.
In a brilliantly filmed sequence, Marc escapes before the men can finish their job. Hiding in a church with a group of homeless and hungry, Marc is spotted by two attractive women in black who dole out food to the hungry. The film takes a delicious and unexpected turn as Marc becomes the chauffer to the recently widowed good-looking blonde. More than meets the eye is going on and Clement takes special delight in the twists and turns of this confined thriller.
Filmed in widescreen black and white, the stark images enhance the restricted ambiance. Add a nifty score by Lalo Schifrin and Joy House keeps coming at you with surprises.
Alain Delon is the perfect pretty boy gigolo for Marc. Lola Albright is the lady of the house with a winning smile and black widow's heart and Jane Fonda plays her cousin, hungry for money and hungry for love.
The widescreen anamorphic 2.35 black and white images are transferred from relatively clean elements. A few scratches and bad splices are in evidence, but they are minor and rarely intrude on the image. Contrast range is comfortable and shadow detail reveals the full intent of the director. The image is sharp with no undue edge enhancement except in some peak transitions. The mono sound is marred by a hum throughout. You have to work to drown out the drone. Joy House is presented in English, which seems to be the language it was filmed in, or French, with no subtitles.

Check out these DVD recommendations from the Films on Disc DVD Review Archive. New releases are constantly in our face, but catalog gems should not be forgotten.
---


Selections from the feature archive include articles on Akira Kurosawa, Frank Darabont, Blonde Bimbos, Hollywood Street Gangs, or Vietnam: The Hollywood Pariah, and many more....

Film noir: The phrase hangs awkwardly on the tongue, shadowy images peek out from behind half-closed doors. Click on the Noir and Noir Again symbol for a look into the dark spaces of Hollywood's revisiting of film noir.
---

The Movie Poster Archive include extensive poster images from the films of stars like Susan Hayward, Kirk Douglas, Katharine Hepburn and many more. This month's featured star is Burt Lancaster.
---


Gary Morris's insightful publication Bright Lights Film Journal turns the celluloid in films from a unique perspective. Click on the image above for more pure movie views.
---


Fine reviews, features and news on DVD. The Big Picture has been doing DVD as long as anyone. Jeff McNeal and Bob Banka feed on a steady diet of DVDs.
---


Doug Pratt's been doing almost longer than anyone in the business, reviewing laser discs, that is, and now DVDs too. The venerable Laserdisc Newsletter has been publishing since 1984. Pratt probably has a large enough stock of laser discs in his house to build a DVD-proof bomb shelter. Check out his on-line reviews at DVDlaser.com.
---
shopforacomputer.com
Offering home theater and DVD links, photos, product reviews, on-line purchasing information and top-brand comparison shopping.
---


A hallmark of Film Threat Magazine is irreverence. The transition from print to the Internet leaves the acid base in tact. Humorous criticism with a vengeance.
---


Cinemedia is the largest film and media directory with over 25,000 links.
---