Nelly and Monsieur Arnaud/ B+, B+
New Yorker/1995/103/ANA 1.66
Monsieur Arnaud is captivated by Nelly's astounding beauty at a casual cafe introduction. Arnaud, in his mid-sixties and Nelly close to thirty are both people in need. Arnaud, separated 20 years from his wife, is a former provincial judge and later a very successful businessman. Nelly has just decided to separate from her husband of five years.
Arnaud is searching for passion, Nelly is searching for herself. A fascinating relationship develops unlike anything you've really ever watched in the movies. Nelly and Monsieur Arnaud is by nature a talky film. Much of the plot evolves around Arnaud's autobiography as he dictates passages to Nelly. For all its verbosity, so much plays in between the lines. Nelly and Monsieur Arnaud is textured with reality. It's easy to become involved with these characters. You don't want the film to end.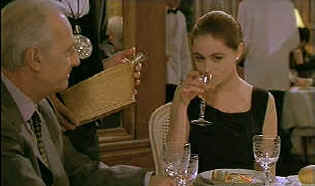 A wine older than Nelly. ©New Yorker
Emmanuel Béart is a striking beauty. Ever since appearing in Manon of the Spring, she has been acknowledged as one of the great international beauties. Béart is a fine actress, with a hint of mystery about her. All eyes focus on Nelly as captured by Béart. Michael Serrault's precision in the role of Arnaud is wonderful. There's intelligence behind every glance. Arnaud's disdainful self awareness is finely sculpted by Serrault. And this is the same man who created the hilarious role of Albin the transvestite in La Cage aux Folles twenty years before.
Directed and co-written by the late Claude Sautet (1924-2000), a senior Frenchman whose command over quiet domestic dramas Béart , Un Coeur en Hiver. Sautet directs with domestic patience, calmly nudges his characters forward.
The production elements disappear behind the professional treatment. Interiors are well lit capturing and embellishing mood. First rate all the way.
DVD presentation is pretty straight forward. The anamorphic 16 x 9 enhanced images are sharp throughout. No detail is lost. Colors are stable and consistent. There's a nice film-like sense about the transfer. Blacks are creamy smooth and contrast is effortless. Dolby Digital 2-chnnel stereo is clean and the removable yellow English subtitles are provided to translate the French language.

The Movie Poster Archive includes extensive poster images from the films of stars like Susan Hayward, Kirk Douglas, Katharine Hepburn and many more. Our featured star is Lana Turner.
---


Selections from the Feature Archive include articles on Akira Kurosawa, Blonde Bimbos, Frank Darabont, Steven Culp, John Herzfeld or Vietnam: The Hollywood Pariah, and many more....
Director Walks the Wire


Balanced by an armor of movie lore and filmmaking daring, director John Herzfeld is comfortable walking the high wire. Check out this interview by Stu Kobak.
---


Kinoeye Archive
This is a resource of all content-rich materials on the web relating to Central and East European cinema. The ultimate aim of the Kinoeye Archive is to provide a near-as-damn-it definitive index of intelligent and thoughtful English-language analysis of Central and Eastern European cinema on the web.
---
DVDRAMA
One of France's outstanding DVD resources. Par le vous DVD?
---

Sight and Sound Magazine is the venerable voice of The British Film Institute. The site includes articles and film reviews. A great resource in print and on the Internet.
---


A new entry in the 2001 home theater site sweepstakes. Chief focus on hardware reviews with a smattering of software.
---


Spartacus (SE) /A, B+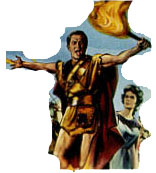 This is one of the great epic films with an animally electric performance from Kirk Douglas. Great special editon.
---