Deep Red(Profondo Rosso)/B,B+
Anchor Bay/1975/126/ANA 2.35
Deep Red flows with Dario Argento cinema conventions. The camera is peripatetic, moving in smooth ominous sweeps through narrow hallways, searching out the dark recesses where fear lives. The camera moves in on characters in danger, then pulses back again to heighten the tension. Argento's fondness for architecture is once again used with striking effect in Deep Red.
The similarities between Bird with the Crystal Plumage and Deep Red are inevitable. In both films an artist, a writer in Bird and jazz pianist in Deep Red, are sucked into a bloody mystery. Bird has a much crisper and better developed story line. Each has exquisite moments of panic and horror and the ways in which victims are dispatched. Argento even raises the ante several notches in Deep Red.
Argento displays a good sense of humor around the dark doings of Deep Red. The romantic possibilities are played out with charm. Some of the sequences drag a bit as Argento tries to squeeze the last drop of blood from every situation. Still, this is an engaging film.
The lack of a strong protagonist takes Deep Red down a peg. David Hemmings fails to give jazzman Marcus Daly any fire or spirit. I was half hoping to see Hemmings lying in another pool of blood. He just doesn't fit my bill as hero material. But maybe that's a virtue after all. Argento's characters are more victims than heroes.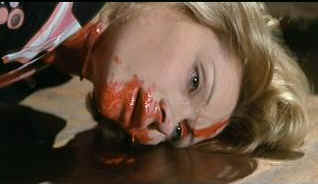 Argento's characters are prepared to give blood. ©Anchor Bay
There's a nice interview with Argento and and collaborator as an extra. It's not very extensive, but there are tidbits to be gleaned. The piazza setting where Marcus first becomes a captive of circumstance features a bar modeled after an Edward Hopper painting, inspired by an Argento trip to the States.
Anchor Bay has done handsomely by Argento fans. This is the "Full Length Director's Cut" restoring about twenty minutes of footage that was absent from other American releases. The anamorphic transfer is smooth and detailed with little added noise. This is a film-like transfer, though owing to the film stock and camera work, the picture lacks the depth and wealth of detail that might otherwise be there. In some ways it adds to the suspense. Of course, the color is displayed with garish delight. At least the blood is. The color design is fairly muted. It appears an accurate representation of the filmmaker's intent. Some of the night scenes might have had deeper blacks You might want to think twice about watching with the English soundtrack. Dialogue bounces back and forth between English and Italian with English subtitles for the restored sequences. The dubbing isn't very good anyway. Anchor Bay warns you of this anomaly prominently on the back cover of the package.


Selections from the Feature Archive include articles on Akira Kurosawa, Frank Darabont, Blonde Bimbos, Hollywood Street Gangs, or Vietnam: The Hollywood Pariah, and many more....
Roman Holiday


Join the editor and his family on a trip through Roman movie sites in this unusual feature.
---



Now a major independent DVD distributor, Image has parlayed its laser disc business to success. Great DVD release calendar info.
---

Gary Morris's insightful publication Bright Lights Film Journal turns the celluloid in films from a unique perspective. Click on the image above for more pure movie views.
---


One of the prime resources for DVD information: rumors, reviews and news.
---


DVD Demystified makes it all clear.The official Internet DVD FAQ for the rec.video.dvd Usenet newsgroups.
---

The Movie Poster Archive includes extensive poster images from the films of stars like Susan Hayward, Kirk Douglas, Katharine Hepburn and many more. Our featured star is James Mason
---