Humanite/B-,B
Winstar/1999/148/ANA 2.25
Humanité's contemporary setting is a Northern French town where bordom seems the order of the day,. Writer/director Bruno Dumont's pacing is often reminscent of watching icicles melt on the eaves of a house. The film is long and the director likely could have shaved twenty-five minutes by cutting many of the thoughtful character pauses in half. Despite the fact that you may grow tired of watching Pharaon De Winter look thoughtfully at the sky, Dumont's film manages to capture a unique intensity in its stillness.
De Winter is a police superintentent is small town. When confronted by a shocking murder and sex crime against a young girl, the taciturn policeman is physically repelled. While the ongoing investigation plods along, De Winter's relationship with a sensual neighbor Domino and her boyfriend Joseph is explored. The sex between the couple is hot and heavy and often occurs at unexpected moments. De Winter tags along on social outings, existsing almost in a trance, confronting life from a twisted tight internal perspective. At work, his boss often looks askance at his odd behavior. He perfroms his work with a dull, methodical step. Yet, something is seething within him. What will it take for this man to find the path back to his humanity?
Dumont professes a casting preference toward amateurs, shying away from the artifice he feels professional bring to their roles. His chosen lead for the center of Humanité is certainly an interesting choice. Emmanuel Schotte's passive exterior is fightening and reflects the boredom that surrounds his life. The camera makes enormous demands on the actors ability to communicate without speaking, and Schotte delivers the goods with an enigmatic phlegmatic inertia. Severine Caneele breathes sex into Domino. She has a lusty screen presence and seems perfectly natural at all times.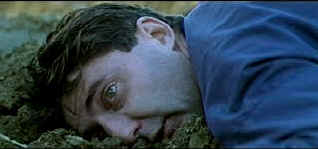 The horror! ©Winstar
The good news about Humanité on DVD is that Winstar Home Video seems to have discovered anamorphic. Often the transfer is no more than serviceable, but without the added resolution afforded by 16 x 9 enhancement, the DVD would be decidedly less satisfactory. Colors are rather muted, as intended by the director, though the patches of flora are intense and richly rendered. Blue skies are desaturated. A cloud is hanging over these characters. There is edge enhancement especially evident in high transition compositions. A few long shots of Pharaon walking in the distance ring very prominently. Overall, the DVD is reasonably sharp. The yellow English subtitles are easy to read. Dolby Digital French Stereo is simple and clean. Included as added value on the DVD is an 118 minute video interview with Bruno Duont conducted by film scholar Michael Jeck. The interview reflects the arcane nature of Dumont's filmmaking process. The listed 1.85 aspect ratio is incorrect. The anamorphic transfer is approximately 2.25:1.


Selections from the Feature Archive include articles on Akira Kurosawa, Frank Darabont, Blonde Bimbos, Hollywood Street Gangs, or Vietnam: The Hollywood Pariah, and many more....
The Exquisite Muse of Zhang Yimou



The powerful image-making of Zhang Yimou has revealed itself in virtually every film he has made. Coupled with his remarkable collaboration with actress Gong Li, Zhang's has built a stunning body of work Click the image to read all about it.
---



The Films2 website contains Films2.com is a comprehensive film website, providing a searchable shop of new and archived video and region 2 DVDs to buy. You can check local cinema listings, read the latest film news, reviews and gossip, and see the latest film trailers.
---


European film portal and hard to find video store.
---

Sight and Sound Magazine is the venerable voice of The British Film Institute. The site includes articles and film reviews. A great resource in print and on the Internet.
---

A great place for movie lovers and techies to visit for exchange of ideas. New speedy interface is an inspiration for more dialogue. Home of Robert( Obi) George's DVD reviews.

---


Home Vision Cinema
Classic and foreign motion pictures on VHS tape. The title selection is excellent and informative essays are provided for many of the films.
---