Shower/A,B+
Columbia/2000/94/ANA 1.85
Shower is a wonderful film about family and putting things in perspective. In a Northern China there is a bathhouse in a section of the old city. It's run by a man and his retarded son and is an important part of the community for many of the old timers and some younger men as well. The stories we hear about in the bathhouse are funny and poignant. Old man Liu who runs the place is a wonderful character, a sagacious master of the water. And he knows how precious water is.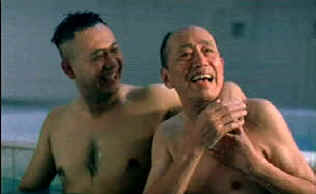 A happy bath house moment. ©Columbia
Behind the misty atmosphere of the local bath house is a heartwarming story of family. Part and parcel of the mist of the bath house is concern for one's friends. The mist of the bath house is steeped in warmth and heart that goes far beyond the social surface. Er Ming is the younger son of bath house owner Master Liu. When the older brother Da Ming returns home in response to a letter from his brother, it is a chance for the family to explore their damaged relationships. Faced with personal and business turning points, the brothers must come to grips with differing realities. How they work out their problems and help with the problems of others makes a great story.
The savvy script by director Zhang Yang and a team of collaborators provides many humorous moments to frame to humanize the drama. Zhang's direction is sure-handed. While he plays with emotions, he's never heavy-handed. He respects his character and their differences. The opening is simply hilarious. There's also a lovely digression from the main story that relates the tale of a people in the northwest of China for whom water is scarce and precious. It's lovely filmmaking.
Wu Jiang plays sunny Er Ming with extraordinary brio. Despite his handicap, you are never sorry for him, for he understands himself quite well. Jiang manages to search deep inside this character revealing some wonderful aspects. Quanxin Pu has the more difficult task of bringing to life the dower older brother Da Ming. The doubts his character must deal with are well constructed by the actor. Together, he and Jiang are outstanding. Xu Zhu plays father Master Liu with patience and intelligence. The three actors create a memorable on screen family.
Columbia delivers Shower in a splendidly clean DVD. Every glistening drop of water is well delineated. You can catch the spark of life in Er Ming's eyes or understand the love reflected in Master Liu's expressions. Color is excellent.: good saturation and a nice range. Skin tones are accurate. Night sequences glisten with life. Shadow detail is excellent and grain is replicate din tight patterns. The Dolby Digital 5:1 surround delivers the package of music and ambient details with nice spatial balance. Yellow English subtitles are easy to read and seem to communicate the feelings of the characters quite well.

Jou Du/A,B-


A sexy Chinese noir. Bold colors paint stirring emotions in a small provincial town.
---


Selections from the Feature Archive include articles on Akira Kurosawa, Blonde Bimbos, Frank Darabont, Steven Culp, John Herzfeld or Vietnam: The Hollywood Pariah, and many more....
The Exquisite Muse of Zhang Yimou



The powerful image-making of Zhang Yimou has revealed itself in virtually every film he has made. Coupled with his remarkable collaboration with actress Gong Li, Zhang's has built a stunning body of work Click the image to read all about it.
---


Gary Morris's insightful publication Bright Lights Film Journal turns the celluloid in films from a unique perspective. Click on the image above for more pure movie views.
---

Kinoeye Archive
This is a resource of all content-rich materials on the web relating to Central and East European cinema. The ultimate aim of the Kinoeye Archive is to provide a near-as-damn-it definitive index of intelligent and thoughtful English-language analysis of Central and Eastern European cinema on the web.
---


DVD Demystified makes it all clear. The official Internet DVD FAQ for the rec.video.dvd Usenet newsgroups.
---