Enigma of Kaspar Hauser (SE)/ B+,D+
Anchor Bay/1974/109/ANA 1.85
Writer/director Werner Herzog never fails to deliver interesting material The fascinating Enigma of Kaspar Hauser Kaspar is one of his strangest. Herzog moves it along with an awkward episodic gait similar to the stiff walk of title character Hauser. I am not always certain as to who the characters are, but the focus is on Hauser and his journey from a dirty, brutalized youth chained to a stake to a man trying to understand the world around him and fit in in some way is never less than moving.
The Enigma of Kaspar Hauser is based on the true story of a young man who suddenly appeared in the Nuremberg town square in the 16th century, virtually unable to communicate, barely able to walk. As the details of his story came clear, it was discovered that he was kept a prisoner in a dungeon from the moment he could remember, had no contact with any humans, and was physically immobilized.
The continuity of the film is not quite clear to me. At times it appears that Kaspar is in some sort of prison, at other times he seems to be staying with a family, but there's confusion about time period. In the end, it appears that Kaspar lives in a group home for unfortunates. I don't understand why things happen the way they do, but, after all, the film is called The Enigma of Kaspar Hauser. The strong emphasis is on enigma.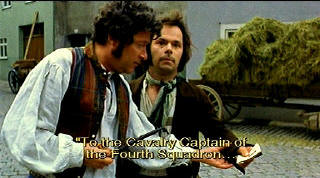 Kaspar is discovered in the town square. ©Anchor Bay
Herzog has a compulsive style of filmmaking. He very patiently leaves no stone unturned while maintaining the mystery. This is very much Herzog's enigma; a very strange film. Herzog shows a keen intelligence and curiosity about the human condition. He spices the script with some interesting details of 16th century peasant behavior. The small circus scene is wonderfully evocative of another time and place. The barker weaves his spiel with a slightly disreputable taste which is very effective. The story of the King of Punt is most poetic.
Quite an incredible performance by Bruno S. as Kaspar. Kaspar's honesty strips life naked and this comes through with the totally spastic and awkward performance.
Despite severe reservations on the transfer, The Enigma of Kaspar Hauser is certainly worth watching. It's a riveting film almost like any other I have seen. The transfer is heavily grain-laden. There's some jitter in from time to time. Color is decent, but somewhat desaturated. Sharpness is reasonable. Optional English subtitles are on the image are easy to read. Contrast range is rather weak and shadow detail is okay. Some scenes are blown out like the circus act tent. This is probably the weakest of the Herzog film transfers. Is it owing to the source material? Perhaps to some degree, but it appears to me a better transfer could have been extracted. The scene on the lake is absolutely awful. The interactive grain and shifting image destroy the mood.
A featured second audio commentary has Norman Hill asking questions of Werner Herzog in continuity with the film. Herzog relates the horrible story of his lead actor Bruno S. His story is almost as horrible as Kaspar's. Hill asks good questions drawing out fascinating information from Herzog. You learn about Herzog's shooting style. Herzog's recollections seem as fresh as the day he shot the footage. The circus scene was written by Herzog ten minutes before it was shot: incredible! Excellent informative commentary track.
Reviewed on a Sharp 9000VX DLP Projector
Werner Herzog Film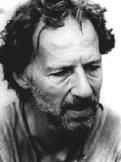 The Web site of director Werner Herzog includes lots of great material. A perfect stop for anyone who admires his films.
---
Looking for a good Foreign Film Fix? Here's a list of reviews that can get you started on an overdose. Click here to satisfy the urge.
---


To Kill a Mockingbird (SE)/ A,A



From the great novel by Harper Lee, this tale of growing up in the 1930s South is splendidly evocative of place and period. Gregory Peck is splendid. Direction impeccable.
---


A new Films on Disc space dedicated to purging accumulated home theater angst and other movie related frustrations, with a measure of praise to balance the vitriol. The first column takes on:
Inserts and the Pop-Up Window
---

---


Have you visited Home Theater Talk lately? One of the friendliest places on the Net for Home Theater and DVD discussion, you can get help for installation problems or simply share your opinions with other Vidiots.
---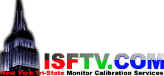 ISF Monitor Calibrations in the Tristate New York area. Lots of hardware info and frequent hardware peaks from video expert Kevin Miller. They may be judgmental, but that's the point, isn't it. Lots of DVD reviews plus news and more.
---