Purple Noon/ B+,C+
Miramax/1960/118/WS 1.66
Rife with jealousy and class consciousness, duplicity unfolds in festive 1950s Italy, rolling with the grace of the Mediterranean and pulsing with the beat of Rome. Lush settings play against the grain in Purple Noon, adding an unsavory tint to the rose-colored world.
Tom Ripley is tagging along with playboy Phillippe Greenleaf to collect a five thousand dollar bounty from Philippe's wealthy San Francisco father for convincing the reprobate expatriate son to return home to American soil. While Philippe enjoys Tom's company, all is well. But Marge, his live-in, isn't exactly thrilled by the relationship. Tom's time is running out.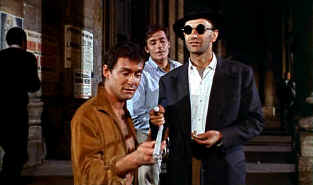 Life's a lark. ©Miramax
Adapted from the Patricia Highsmith novel The Talented Mr. Ripley, director Rene Clement cuts away a lot of the fat of the recent big, lush production remake by director Anthony Minghella. Relationships are revealed with quick efficient strokes and it is less convoluted and more claustrophobic. Still, important bit of information are held back and revealed at essential moments.
Clement makes Purple Noon a sensuous and sinewy film. Tom Ripley is one of those truly beautiful people. Alain Delon is a perfect choice as Tom. His charm is undeniable, he's got matinee idol looks, yet there is something disreputable about him. You can believe Delon's Tom capable of almost anything. He's an amoral animal and that is what keeps the films from floundering in rough waters. Alongside Delon, Maurice Ronet is excellent as Philippe Greenleaf. There's just enough resemblance between Delon and Ronet to make the plot even more effective.
Purple Noon captures place with great authenticity without resorting to travelogue shots. The film has a powerful physicality. Things unfold with like a flash of lightening in a dark sky. Nino Rota's score captures the various mood shifts and the flavor of the locales.
This may not be the most attractively transferred DVD, but Purple Noon retains it visual power in service of the very tight script. The credit sequence is very grainy, but overall grain is tighter, consistent and mostly stable. Color saturation is fine. Some minor color instability is evident in the source material. This is mostly a sharp transfer that's easy to watch. It's a very fair representation of the filmmaker's intent and the original source material. Some street scenes are a little soft but I think it is the way it was shot rather than owing to deficiencies int he transfer. Good black level in the night sequences. The Cardinal red robes at Freddy's car are like a patch of bright blood in the black night. The red striped shirts are quite a jittery mesh and other straight edges don't fair much better. Removable yellow English subtitles are easy to read. The pans on a DLP are a bit extra noisy, especially in a grainy transfer.



Mystery writer Fred Hunter digs into classic films on DVD. Check out his insightful reviews at The Classics on DVD.

---


Excellent resource with DVD reviews, forum and more. Home of the DVD Savant.
---

Jim Doolittle
ISF Instructor. Premier calibrator and expert front projection system setup technician in the Boston area.
---

A huge selection of French movie posters with images galore. Don't miss this site if you ate interested in lovely French posters.
---


Selections from the Feature Archive include articles on Akira Kurosawa, Blonde Bimbos, Frank Darabont, Steven Culp, John Herzfeld or Vietnam: The Hollywood Pariah, and many more....
Thorough a Lens, Obliquely



Flicks about Hollywood make fascinating material, but the establishment isn't always totally forthcoming. Click on the Hollywood montage for a look at some of the best Hollywood films about the movie-making business.
---

The Movie Poster Archive include extensive poster images from the films of stars like Susan Hayward, Kirk Douglas, Katharine Hepburn and many more. Our featured star is Robert Mitchum