Yi Yi (SE) /A-,D
Winstar/1999/173/ANA 1.85
Listen to the opening piano chords of Edward Yang's beautifully modulated film Yi Yi and you will have a good inkling of the filmmaking style to come. The piano notes float effortlessly; there's no artificial strain, no urgent call to attention. The lyrical quality of the music and the lyrical quality of Yang's film sing eloquently with little extraneous embellishment.
The Chinese symbols for Yi Yi stands for individually. Yang's film is about individuals in a family; each is undergoing some crisis, whether related to growing pains of childhood, the ennui of successful middle age or the longing for a lost past, the Jians must work it out. There interactions amongst one another reflect what's going on elsewhere in there lives.
Yang builds the stories of the family members on the foundation of a wedding, a baby christening party and a funeral. In between, the happiest and saddest events, we follow NJ Jian is his pursuit of a business deal with Japanese game creator Ota in helps of saving the failing computer software game company in which he's a partner. And to make his life even more complicated, former high school sweetheart Sherry turns up to rekindle the romantic flames. Wife Min-Min is lost in dealing with the recent stroke of her mother who rests comatose in their apartment bedroom. NJ's daughter teenage daughter Ting-Ting meets a new friend and neighbor and then explores her womanhood. Yang-Yang, NJ's precocious eight-year-old son reconnoiters the waters of school with delightful humor. Brother-in-law Ad-Di is ever scheming with investments of his own. As complex as it may sound, director/writer Yang has perfect control over the material.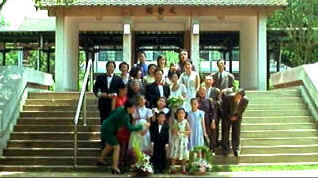 The traditional family wedding pose. ©Winstar
Nien-Jen Wu shines as NJ and young Jonathan Chang is wonderful as Yang-Yang. Issy Ogata captures Mr. Ota's remarkable resilience. All of the actors shine under Yang's direction. Yang is so warm in directing style, one must believe this quality is communicated to his actors. Chen Hsi-Sheng provides some natural humor as Ah-Di, but perhaps Tseng Yi-Hsin Yun-Yun is a bit too brash and loud.
The relaxed cinematography captures the many moods of Taipei, Taiwan. The city landscape plays a powerful roll compositionally even though this is a film about personal stories. There's one beautiful shot as two girls speak in the distance framed under the twin pylons of an overhead expressway.
At 173 minutes this is a very long film, but it seems short and quick paced to me. I can't think of higher praise for a film. The fact that I even continued watching it after realizing the transfer was lousy is another tribute to the magnetic quality of the filmmaking.
It's terribly disappointing to see a beautiful film delivered in shoddy fashion. The image is never better than soft, colors less than vibrant, and that's not the worst of it. The transfer is either composite sourced or someone forgot to flag the 2-3 pulldown information. The jumble of jumping straight edges is a major distraction to the contemplative and delicate composition of Yang. The yellow English subtitles are the only picture element delivered in sharp order. What a shame: Winstar, obviously trying to do the right job, delivers an anamorphic 16 x 9 enhanced transfer plagued by the ghost of DVD disaster.
Edward Yang's commentary provides cultural illumination of the film, especially for Western audiences. Yang discusses traditional family values, points out when a funeral is atypical Chinese or provides insights into character motivation.


Selections from the Feature Archive include articles on Akira Kurosawa, Frank Darabont, Blonde Bimbos, Hollywood Street Gangs, or Vietnam: The Hollywood Pariah, and many more....
The Exquisite Muse of Zhang Yimou



The powerful image-making of Zhang Yimou has revealed itself in virtually every film he has made. Coupled with his remarkable collaboration with actress Gong Li, Zhang's has built a stunning body of work Click the image to read all about it.

Click on the DVD MIA symbol for profiles of DVDs missing in action.
Add films to the DVD MIA Master List by filling out a simple form. Click Here




Have you visited Home Theater Talk lately? One of the friendliest places on the Net for Home Theater and DVD discussion, you can get help for installation problems or simply share your opinions with other Vidiots.
---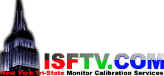 ISF Monitor Calibrations in the Tristate New York area. Lots of hardware info and frequent hardware peaks from video expert Kevin Miller.They may be judgmental, but that's the point, isn't it. Lots of DVD reviews plus news and more.
---


An on-line Home Theater magazine with excellent hardware reviews, including thorough and responsible research. Check it out.
---