Stars Fell on Henrietta C+, B+
US/1995/COLOR/WIDESCREEN 2.35:1/STEREO SURROUND/110 MINUTES/DIRECTED BY JAMES KEACH/STARRING ROBERT DUVALL, AIDAN QUINN/WARNER/35 CHAPS/CLV/$34.98
Chief amongst the virtues and problems of this pleasing small movie are Robert Duvall. I found Duvall quite charming in the role of an old time oil wildcat still looking for his own first taste of black gold. Yet it is easy to see that Duvall's eccentric delivery of charm could become annoying for some viewers.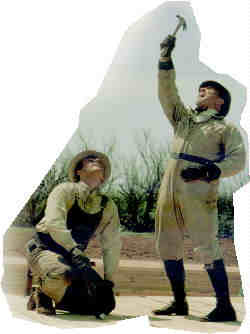 The Stars Fell on Henrietta is set in drought bound Texas farm country surrounded by towers of pumping oil derricks holding out the dream of financial salvation. Mr. Cox(Duvall)finds himself adrift in a storm with a nasty bump on the head only to be rescued by Don Day(Aidan Quinn), the owner of a nearby failing farm. At the farm, Mr. Cox, the dreamer, the intuitive failed oil man, senses there is oil under the ground of this dying farm and infects Quinn with this fantasy of survival. Cora Day(Frances Fisher)nixes the idea of expending the last of the family assets on oil exploration and Duvall sets off assuring Don Day that he will find the money to finance the drilling. Act two is comprised of Mr. Cox's attempts to promote the oil seed money and the final act, predictably results in a gusher.
Complimenting Duvall's performance are two excellent performances by Quinn and Fisher grounded in a sense of reality and desperation. The three actors bring more to this tale than the script can provide. Perhaps the full potential of this depression fantasy has not been fully pulled from its origins, yet, ultimately, the inherent sweetness of The Stars Fell on Henrietta is enough to carry the day. It is directed with obvious delight by James Keach and it is warmly photographed by Bruce Surtees.
The laser disc captures the delicate lighting and warm, nostalgic, tones of the film. It's a very sharp transfer that is thoroughly pleasant to look at. The night scenes with Duvall cavorting under the stars to emphasize the fantasy of this film are transferred with deep blacks providing the perfect background for twinkling stars. Dialogue is very clear and the music is well served by the laser.

Laser Disc Ratings
12 Monkeys Special/A-,B+
12 Monkeys/ B+,B
1941 SE/ C-, B-
a la Mode/B+,B+
A Pure Formality/C,B
Alaska/B,B+
Albino Aligator/C+,B
Alfie/B,B
American President/ B+, B+
Apache/C+,C+
Apocalypse Now/A-,A-
Apollo 13 SpecialA,A
Appaloosa/C+,C+
Bad and the Beautiful, The/A,B+
Basquiat/C+,B
Bend of the River/ B, B+
Bhagdad Cafe/B,B
Big Country/ B, C
Big Picture, The/B,B
Big Trees, The/C+,C+
Bingo Long and His Traveling All-Stars/B+,A
Blood and Wine/B,B
Blue Kite/B+,B
Bogus/C,C+
Borderline/C+,B
Bound/B+,B+
Brazil Special Edition/B+,A-
Bride Came COD/B-,B
Bringing Up Baby/A,B
Bulletproof/C,B+
Butch Cassidy and the Sundance Kid/B,A-
Call Nothside 777/B+,C+
Camille Claudel/ A, B+
Canterville Ghost/C+,C+
Caro Diario/A-,A-
Captain from Castile/B,B+
Casino/ C+, B
Casper/C+,A
Cause for Alarm/C,B-
Celestial Clockwork/B+,B-
China Moon/B+,A
Christopher Columbus(1949)/C,C
Come and Get It/B,B+
Commandments/C+,B+
Crimson Tide/A-,A
Crossing Guard, The/B,B+
Cutthroat Island/C, A
Dante's Peak/B-/B
Daylight/B,A-
Dead Man Walking/C+,B+
Dead Presidents Special/ B+,A
Diabolique(1995)/C+,C
Diary of Ann Frank/ A-,B
Double Happiness/ B+,B+
Dune/C+,B+
Earrings of Madame de.../ B+, B+
Enemy Below/ B, B
Englishman Who Went..../C,B
Ermo/B-,B-
Everybody's Fine/C+,C+
Executive Decision/B+,A
Eye for an Eye/B,B+
F.I.S.T./B,B
Face-Off/B+,A
Family Thing/B,B+
Farewell My Concubine/A-,A
Far Country/ B-, C+
Field of Dreams Special/A-,B+
Field of Dreams/ A-, B
Fires on the Plain/B+,B
Firestarter/C+,C+
First Knight/ C-, B+
First Wives Club/C+,B+
For Whom the Bell Tolls/B-,B+
French Kiss/B-,B+
Fugitive,The(1947)/B-,B
Frankie Starlight/B+,B
Freaks/B+,B
Free Willy 2/B-,B+
Goldeneye/ B, A
Ghost Story/B,B
Great Escape(MGM)/A-,B-
Great Expectations/A,B+
Greystoke: The Legend of Tarzan/B+,C
Grosse Point Blank/A-,A-
Grumpier Old Men/B-,B+
Gun in Betty Lou's Handbag, The/B,C-
Happy Gilmore/ B-, A-
Hard Boiled/B-,B+
Harriet the Spy/B,A
Haunting, The/A,B+
Head Above Water/D+,B
Heat/A-,B
Heaven and Earth/B+,A-
Helen of Troy/C+,B+
Henry V/A,B
Horseman on the Roof/B-,B
Innocent, The/ C, C
Innocents, The/ A, A-
Interrupted Melody/C+,C
Into the West/A,B+
Inventing the Abbots/B-,B+
Jack/C+,A-
Jean de Florette/ A-, B-
Jumanji/ B+, B+
Kansas City/D+,C+
Kentuckian/B-/B
Kolya/A-,A-
Kwaidan/A,A-
La Dolce Vita/ A, B
Last Dance/B,B+
Last Man Standing/C,B
Last Supper, The/B-,B+
Leave Her to Heaven/B+,B+
Les Miserables/ B, B+
Liar,Liar Special/B+,A
List of Adrien Messinger/B,B+
Lonely are the Brave/A-,A-
Lord of Illusions/B,A-
Love Jones/B,A-
Malice/B+,B+
Mask,The/A-,A
Mi Familia/A-,A-
Michael/C+,A
Miracle of Morgan's Creek/B,B-
Mirage/B,B-
Mission Impossible/C+,B+
Morgan/B,C+
Muriel's Wedding/ B, B+
My Name is Nobody/C,C
Natural Born Killers/B,B+
Nell/B,A-
Net, The/ C, B+
Nixon/B+,A
Nothing Sacred/B,C
Old Man and the Sea/B,B
Peeping Tom/A-,A-
Raw Deal/B+,B
Red Firecracker,Green Firecracker/B+,A
Repulsion/A,A
Restoration/B+,A
Romy and Michele's High School Reunion/B,B
Room at the Top/A-,B
Rosewood/B,B+
Scopio/B,C
Seven SE/ B+, A
Shawshank Redemption/A-,A
She/B,B-
Shining Through/C+,B
Silence of the Lambs/A,A
Sling Blade/A,B+
Something to Talk About/ B-, B+
Spartacus Special Edition/A,A
Star Trek: First Contact/C+,A-
Stealing Beauty/B,B
Strange Days/ C+, B+
Striptease/D,A-
Sudden Death/ B, A-
Sullivan's Travels/B+,B
Surviving Picasso/C,B+
T-Man/B,B
That Old Feeling/B-,A-
That Thing You Do/B,C+
They Drive By Night/B,B
Thieves(Les Voleurs)/B,B
Things You Do in Denver When You're Dead/D+,B+
This Sporting Life/A-,B+
Timemaster/ D, C
Tom and Viv/B-,B-
Tortilla Flat/B+,B
Trainspotting/B-,B+
Trees Lounge/B-,B-
Trigger Effect/B-,B+
Two Bits/C,B
Unforgettable/C,C+
Umbrellas of Cherbourg/B+,B
Unzipped/B-,B-
Usual Suspects/ B-,C+
Valdez is Coming/C+,B-
Vengeance Valley/B,C+
Virtuosity/ C+, A
Wait Until Dark/B,B-
White Man's Burden/ B, B+
White Squall/ B,A
Whole Wide World/B,B
Wicked City/ B, C+
Wild Bill/ C+, B
Window to Paris/ B,B
Witness/B+,A-
Wonderful,Horrible World Life..../B+,B