Shawshank Redemption, The A-, A
US/1994/Color/Widescreen 1.85:1/Stereo Surround/142 minutes/Directed by Frank Darabont/Starring Tim Robbins, Morgan Freeman/Col-Tristar/63 Chaps/2 discs/CLV/$39.95
There is an old fashioned sense about The Shawshank Redemption, a feeling of quality that pervades every aspect of the film. There is nothing earth shattering about the ground it covers. It's a prison drama. An innocent man is convicted of a crime, is thrown together with hardened criminals, butts heads with deviant inmates, sadistic guards, corrupt officials. It's been done before, but this film bases its center on humanity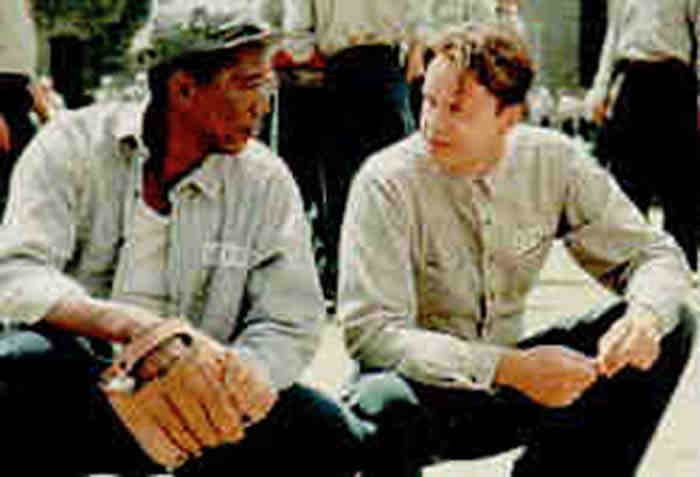 and character and in that way redeems the movie from wallowing and ultimately drowning in a pool of the ordinary. The Shawshank Redemption captures the qualities of a dark fairy tale which delivers to its audience a refreshingly satisfying ending.
This is Frank Darabont's first feature film as a director and it is also is first solo writing credit. Darabont understands and commands the language of film well. The filmmaking displays an elegance and patience that belies the freshman status of the director. The camera work and editing flow with the film and serve to support and story telling rather than shouting out their own merits.
There's a consistent quality to the acting that must pay homage to the skill of the director in drawing out the best that this fine cast has to give. Tim Robbins continues to display enormous talent and versatility in the role of innocent man Andy Dufresne. Robbins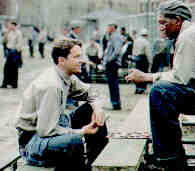 portrays Andy with a perfect balance of coldness, innocence, strength and vulnerability. It's a top-notch performance. Complimenting the screen work of Robbins is Morgan Freeman's Red. Freeman's fluid delivery of the extensive narration is paramount to the success of The Shawshank Redemption. The relationship between Red and Andy and the way it affects each man is beautifully acted and scripted. Each man helps the other to survive. Each actor stimulates the best from the other. James Whitmore has a fabulous supporting role as Brooks, the old con gathering dust in the prison library.
All the elements fall into place on this excellent film. Roger Deakins provides eloquent support for director Darabont with flawless and restrained cinematography. Darabont and Deakins develop their own language of film with subtle use of camera movement. The score written by Thomas Newman, which weaves a haunting recurring theme, provides the proper measure of uplifting spirit to serve the story to best effect.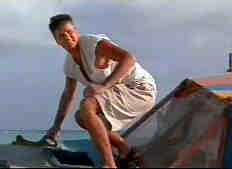 The laser disc is absolutely beautiful to behold. The light output is perfectly balanced to present crisp pictures in the cold light of winter or in the dark cells of prison. Detail level is consistently high with no accompanying artifacts to distract from the beauty. You can look into the eyes of the actors and feel another level of emotion. The colors are all very distinct with no hint of smearing. The audio is on a par with the wonderful video images. Newman's musical strains soar in appropriate balance to the action. The ambient sounds of the prison are detailed enough to create the sense of a three dimensional environment. There is ample strong and tight bass and the dialogue stands out in perfect tones. This is a knock-out laser disc that belongs in everyone's collection.

Laser Disc Ratings
12 Monkeys Special/A-,B+
12 Monkeys/ B+,B
1941 SE/ C-, B-
a la Mode/B+,B+
A Pure Formality/C,B
Alaska/B,B+
Albino Aligator/C+,B
Alfie/B,B
American President/ B+, B+
Apache/C+,C+
Apocalypse Now/A-,A-
Apollo 13 SpecialA,A
Appaloosa/C+,C+
Bad and the Beautiful, The/A,B+
Basquiat/C+,B
Bend of the River/ B, B+
Bhagdad Cafe/B,B
Big Country/ B, C
Big Picture, The/B,B
Big Trees, The/C+,C+
Bingo Long and His Traveling All-Stars/B+,A
Blood and Wine/B,B
Blue Kite/B+,B
Bogus/C,C+
Borderline/C+,B
Bound/B+,B+
Brazil Special Edition/B+,A-
Bride Came COD/B-,B
Bringing Up Baby/A,B
Bulletproof/C,B+
Butch Cassidy and the Sundance Kid/B,A-
Call Nothside 777/B+,C+
Camille Claudel/ A, B+
Canterville Ghost/C+,C+
Caro Diario/A-,A-
Captain from Castile/B,B+
Casino/ C+, B
Casper/C+,A
Cause for Alarm/C,B-
Celestial Clockwork/B+,B-
China Moon/B+,A
Christopher Columbus(1949)/C,C
Come and Get It/B,B+
Commandments/C+,B+
Crimson Tide/A-,A
Crossing Guard, The/B,B+
Cutthroat Island/C, A
Dante's Peak/B-/B
Daylight/B,A-
Dead Man Walking/C+,B+
Dead Presidents Special/ B+,A
Diabolique(1995)/C+,C
Diary of Ann Frank/ A-,B
Double Happiness/ B+,B+
Dune/C+,B+
Earrings of Madame de.../ B+, B+
Enemy Below/ B, B
Englishman Who Went..../C,B
Ermo/B-,B-
Everybody's Fine/C+,C+
Executive Decision/B+,A
Eye for an Eye/B,B+
F.I.S.T./B,B
Face-Off/B+,A
Family Thing/B,B+
Farewell My Concubine/A-,A
Far Country/ B-, C+
Field of Dreams Special/A-,B+
Field of Dreams/ A-, B
Fires on the Plain/B+,B
Firestarter/C+,C+
First Knight/ C-, B+
First Wives Club/C+,B+
For Whom the Bell Tolls/B-,B+
French Kiss/B-,B+
Fugitive,The(1947)/B-,B
Frankie Starlight/B+,B
Freaks/B+,B
Free Willy 2/B-,B+
Goldeneye/ B, A
Ghost Story/B,B
Great Escape(MGM)/A-,B-
Great Expectations/A,B+
Greystoke: The Legend of Tarzan/B+,C
Grosse Point Blank/A-,A-
Grumpier Old Men/B-,B+
Gun in Betty Lou's Handbag, The/B,C-
Happy Gilmore/ B-, A-
Hard Boiled/B-,B+
Harriet the Spy/B,A
Haunting, The/A,B+
Head Above Water/D+,B
Heat/A-,B
Heaven and Earth/B+,A-
Helen of Troy/C+,B+
Henry V/A,B
Horseman on the Roof/B-,B
Innocent, The/ C, C
Innocents, The/ A, A-
Interrupted Melody/C+,C
Into the West/A,B+
Inventing the Abbots/B-,B+
Jack/C+,A-
Jean de Florette/ A-, B-
Jumanji/ B+, B+
Kansas City/D+,C+
Kentuckian/B-/B
Kolya/A-,A-
Kwaidan/A,A-
La Dolce Vita/ A, B
Last Dance/B,B+
Last Man Standing/C,B
Last Supper, The/B-,B+
Leave Her to Heaven/B+,B+
Les Miserables/ B, B+
Liar,Liar Special/B+,A
List of Adrien Messinger/B,B+
Lonely are the Brave/A-,A-
Lord of Illusions/B,A-
Love Jones/B,A-
Malice/B+,B+
Mask,The/A-,A
Mi Familia/A-,A-
Michael/C+,A
Miracle of Morgan's Creek/B,B-
Mirage/B,B-
Mission Impossible/C+,B+
Morgan/B,C+
Muriel's Wedding/ B, B+
My Name is Nobody/C,C
Natural Born Killers/B,B+
Nell/B,A-
Net, The/ C, B+
Nixon/B+,A
Nothing Sacred/B,C
Old Man and the Sea/B,B
Peeping Tom/A-,A-
Raw Deal/B+,B
Red Firecracker,Green Firecracker/B+,A
Repulsion/A,A
Restoration/B+,A
Romy and Michele's High School Reunion/B,B
Room at the Top/A-,B
Rosewood/B,B+
Scopio/B,C
Seven SE/ B+, A
Shawshank Redemption/A-,A
She/B,B-
Shining Through/C+,B
Silence of the Lambs/A,A
Sling Blade/A,B+
Something to Talk About/ B-, B+
Spartacus Special Edition/A,A
Star Trek: First Contact/C+,A-
Stealing Beauty/B,B
Strange Days/ C+, B+
Striptease/D,A-
Sudden Death/ B, A-
Sullivan's Travels/B+,B
Surviving Picasso/C,B+
T-Man/B,B
That Old Feeling/B-,A-
That Thing You Do/B,C+
They Drive By Night/B,B
Thieves(Les Voleurs)/B,B
Things You Do in Denver When You're Dead/D+,B+
This Sporting Life/A-,B+
Timemaster/ D, C
Tom and Viv/B-,B-
Tortilla Flat/B+,B
Trainspotting/B-,B+
Trees Lounge/B-,B-
Trigger Effect/B-,B+
Two Bits/C,B
Unforgettable/C,C+
Umbrellas of Cherbourg/B+,B
Unzipped/B-,B-
Usual Suspects/ B-,C+
Valdez is Coming/C+,B-
Vengeance Valley/B,C+
Virtuosity/ C+, A
Wait Until Dark/B,B-
White Man's Burden/ B, B+
White Squall/ B,A
Whole Wide World/B,B
Wicked City/ B, C+
Wild Bill/ C+, B
Window to Paris/ B,B
Witness/B+,A-
Wonderful,Horrible World Life..../B+,B