A Hollywood original and one of the earthiest actresses to grace the screen, Susan Hayward appeared in almost sixty films beginning in 1937 through her last movie made for television in 1972, Say Goodbye, Maggie Cole. With flaming red hair and a voice that ranged from throaty purr to challenging rasp, Hayward played tough with tough guy co-stars. Though she won her only Oscar© after five nominations as Best Actress for I Want to Live, the story of Barbara Graham, a woman sentenced to death, and her battle to stop the inevitable, Hayward was most memorable playing opposite strong men. I remember her best for the feistiness she exuded opposite Clark Gable in Soldier of Fortune, or her down-to-earth presence in The Lusty Men opposite Robert Mitchum and Arthur Kennedy. Equally at home in adventure films or steamy romances, Hayward's fire seldom let audiences down. In her later films she played mostly fallen women in weepers that focused more on her bitchiness than the tough sexiness that made her a genuine screen goddess. The list of male co-stars is a Who's Who of Golden Hollywood including John Wayne, Gregory Peck, Kirk Douglas, Charlton Heston, Tyrone Power, Gary Cooper, Edward G. Robinson, and on and on.
Click on thumbnails for larger images.
Click on thumbnail image to see a larger view.

A Star is Born/A,B



Judy Garland is brilliant in the great Hollywood tale of one star on the rise and another sliding into the abyss. James Mason is wonderful alongside Judy.
---


The major studio vaults are filled with incredible film treasures which few have seen the light of DVD.
Open the Vaults
---


Selections from the Feature Archive include articles on Akira Kurosawa, Blonde Bimbos, Frank Darabont, Steven Culp, John Herzfeld or Vietnam: The Hollywood Pariah, and many more....
Thorough a Lens, Obliquely



Flicks about Hollywood make fascinating material, but the establishment isn't always totally forthcoming. Click on the Hollywood montage for a look at some of the best Hollywood films about the movie-making business.
---


Have you visited Home Theater Talk lately? One of the friendliest places on the Net for Home Theater and DVD discussion, you can get help for installation problems or simply share your opinions with other Vidiots.
---

Buddhacon features a wide range of reviews from DVDs, first-run movies to top-selling albums. Editorials, features and more. User comments appended.
---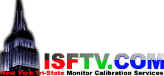 ISF Monitor Calibrations in the Tristate New York area. Lots of hardware info and frequent hardware peaks from video expert Kevin Miller. They may be judgmental, but that's the point, isn't it. Lots of DVD reviews plus news and more.
---


BargainFlix doesn't sell movies! We just tell you where to get them for the best price! DVD reviews, giveaways and more.
---