One of the most intense actors to ever appear on the screen, Kirk Douglas has shaped a career spanning more than fifty years. Born Isadore Demsky to an immigrant Russian family in upstate New York, the young man left his roots far behind to carve out a Hollywood career as versatile as any actor of his generation.
Douglas's screen debut was Barbara Stanwyck's weakling husband Walter in The Strange Love of Martha Ivers. Hollywood soon discovered the darker side of Kirk first, casting him in various roles like Whit Sterling in Out of the Past looks. In Champion, perhaps the greatest boxing film ever made, director Mark Robson brings Douglas to the very forefront of Hollywood's universe. Boxer Midge Kelly is a towering screen portrait. Miraculously, Douglas manages to find a kernel of humanity in this dark character and despite his despicable deeds, audiences cheer for him in the final fight.
Champion remains one of my favorite Douglas roles, along with Spartacus, Lonely are the Brave, Young Man with a Horn and The Bad and the Beautiful. Watching a Kirk Douglas movie has invariably meant seeing a professional do his very best.
Douglas suffered a number of physical set-ups in his late years, most significantly a helicopter crash which resulted in a stroke. Remarkably, Douglas, a octogenarian, has displayed the same tenacity that often was part of his screen persona in coming back from the stroke to write a follow-up book to his biography The Ragman's Son.
Click on a thumbnail image to see a larger view.


Selections from the Feature Archive include articles on Akira Kurosawa, Blonde Bimbos, Frank Darabont, Steven Culp, John Herzfeld or Vietnam: The Hollywood Pariah, and many more....
The Bitch Brigade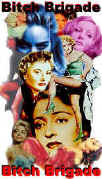 A line-up of lean-lipped actresses who marched through Hollywood in a high heeled goose step armed with razor sharp dialogue. Click on the image to read all about them.
---


Spartacus (SE) /A, B+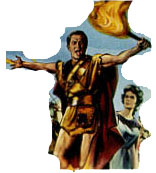 This is one of the great epic films with an animally electric performance from Kirk Douglas. Great special editon.
---

Click on the DVD MIA symbol for profiles of DVDs missing in action.
Add films to the DVD MIA Master List by filling out a simple form. Click Here
---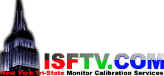 ISF Monitor Calibrations in the Tristate New York area. Lots of hardware info and frequent hardware peaks from video expert Kevin Miller. They may be judgmental, but that's the point, isn't it. Lots of DVD reviews plus news and more.
---


Excellent British based DVD review site that features Region 2 and Region 1 releases. Check out their fine interviews as well.
---


"CinemaQuest has matched the correct TV color of gray in a light fixture."__Joe Kane
Monitor bias lighting in a pre-packaged configuration. Take the strain off your eyes.
---

The Argonaut Foundation is involved in promoting film, film score, and movie location restoration. They are currently involved in promoting the restoration of the site for John Wayne's The Alamo. For more information, click on the picture of the Duke.
---


Manufacturer of computer-video interfaces, switchers, distribution amplifiers, computer-video scan converters, and high resolution cable. Found in many high end home theater systems.
---


BargainFlix doesn't sell movies! We just tell you where to get them for the best price! DVD reviews, giveaways and more.
---

Have you visited Home Theater Talk lately? One of the friendliest places on the Net for Home Theater and DVD discussion, you can get help for installation problems or simply share your opinions with other Vidiots.
---


A home theater site filled with a host of useful information, including links to many other site.
---


Timely DVD reviews and an easy-to-use interface. Weekly contests.
---

Kinoeye Archive
This is a resource of all content-rich materials on the web relating to Central and East European cinema. The ultimate aim of the Kinoeye Archive is to provide a near-as-damn-it definitive index of intelligent and thoughtful English-language analysis of Central and Eastern European cinema on the web.
---
MRQE
Find reams of movie and DVD reviews at the Movie Review Query Engine, a index of reviews appearing on the Internet.
---


Comprehensive DVD review database. Easy to use interface with specific region searches.
---


Excellent resource for movie review links, with many early looks.
---