Through a Lens Obliquely
By Stu Kobak
After watching countless Hollywood productions, you can't help but wonder with amazement at the uncanny ability to use mirrors in films with no hint of cameras or crew intruding on the image. With some of the same magic, when Hollywood holds its own image up to the mirror in movies, remarkably the establishment usually comes out unscathed or redeemably bloodied. Hollywood puts itself to the mirror rarely and at oblique angles to selectively choose what's reflected through a lens. When it does the result is often some fascinatingly riveting filmmaking.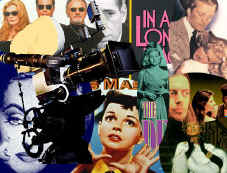 Hollywood often walks on the shards of old film strips before taking a hard celluloid look at itself. After all, who green lights these projects; often it is those most ripe for satire that have the power to decide what films are made. When the subject matter is especially biting its like cannibals feasting on themselves. But then nobody likes to think of themselves in satiric terms and when they may understand the general mirth of others when contemplating their colleagues, it's easy to exclude or delude themselves. How many films are deep-sixed because of sensitive egos will always be debatable, but the films get made. Often inspiration comes from the community of independent filmmakers, unshackled by Hollywood and feeling fresh and brazen enough to take on the establishment of their industry. Some films result from a filmmaker's own frustration within the Hollywood community and an attempt to return to one's roots. Some make their way to the screen because the power and seduction of a successful novel are too tempting for Hollywood moguls to let their sensitive skins spoil the potential financial must. Whatever the reason, good Hollywood films are often the most satisfying for cinephiles.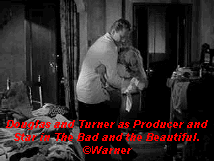 The recent release of The Bad and the Beautiful on DVD from MGM provides some of the best lensing of Hollywood ever. Vanity is laid out on a polished plate for delicious entertainment artfully composed in perfect balance of actor, director, writer, producer and management. Classy musical specialist Vincente Minnelli was given the choice plum of a film to direct. Minnelli and MGM put together a perfect cast. Simmering Kirk Douglas, moody, unpredictable, dominates every frame of screen time as the haunted producer and studio head Jonathan Shields. Lana Turner plays opposite Douglas as the troubled star Georgia Lorrison. Sparks light up the Hollywood firmament in every screen moment shared by the pair. It's a perfect blend of fire and ice. Dick Powell is wonderful as wry writer James Lee Bartlow. Powell's coolly self-deprecating delivery adds a musical light-motif to the melodramatic fireworks. Barry Sullivan is innocently sympathetic as director Fred Amiel. And Walter Pidgeon lends rock solid class to the role of studio bureaucrat Harry Pebbel.
A multiple flashback structure is used to tell the story of Jonathan Shield and the lives he touched. The rigid traditional structure is a perfect foundation to build the portrait of uncontrollably amoral ambition. Does The Bad and the Beautiful magnifying glass expose an accurate blow up of the Hollywood establishment? It carefully treads around the political issues of the big studios, instead focusing on an independent studio started up by a maverick producer, the son of a little admired schlock studio name. When Shields Productions has an iron-clad contract with its star Georgia Lorrison, the cavalier Jonathan Shields lets her tear it up. Doesn't sound much like the reality for stars battling the big studios for some measure of artistic freedom in their career choices. Still, The Bad and Beautiful remains one of my favorite Hollywood mirrors reflecting in the beautiful composed pictures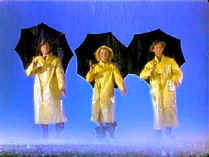 In the same year MGM delivered perhaps the most exuberant portrait of Hollywood ever filmed. Again framed in flashback, Singin' in the Rain, the glorious musical satire on Hollywood's entry in the sound era, succeeds on virtually every level. Singin' in the Rain represents the MGM musical at the very pinnacle of its success. The songs and dances never fail to light up the screen. The title song, as sung and danced by Gene Kelly, endures as a symbol of the best of Hollywood.
Along with Gene Kelly, stars Debbie Reynolds and Donald O'Connor exude exuberance. The backstage banter is nothing less than witty and there's the grandest live dubbing session ever recorded anywhere as Lena Lamont, played with brash brass by Jean Hagen, is revealed to have one of the most grating voices even heard in Hollywood. The moment sings for multiple curtain calls.
Singin' in the Rain is a pure celebration of Hollywood. Co-directed by Kelly and Stanley Donen, the delightful script from Betty Comden and Adolph Green matches note for note with the joyous musical score and songs. Don't look for any insightful or biting universal truths about the Hollywood dream factory. Singin' in the Rain is about drinking in the intoxicating joy of pure Hollywood.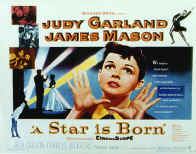 The 1950s turned out to be a vintage year for Hollywood self-examination. In 1954's A Star is Born, Judy Garland got arguably the dramatic pearl of her career as innocent Esther/Vicki. The transformation from singer Esther Blodgett to star Vicki Lester is a remarkably poignant journey for actress Garland. Co-star James Mason chews the scenery with juicy relish as the fading star alcoholic matinee idol Norman Maine. The venom and back-biting that many associate with Hollywood is represented by odious press agent Matt Libby. Jack Carson milks the role for every drop of snake poison he can muster. When he turns his back on Maine you can literally hear the rattling in his bottom. On the other hand, studio head Oliver Niles is presented in a glowing light, protective of his stars and genuinely concerned with their well-being, a benign nod to the establishment.
The decade started out with a cynical look at Hollywood called In a Lonely Place. It's more a murder mystery than a story of Hollywood, but lead character Dixon Steele is a an edgy screenwriter and his affair with actress Laurel Gray is at the heart of the movie. Directed by Nicholas Ray, the film stars Humphrey Bogart as Steele and Gloria Graham as Gray.
In Lonely Place was more a mystery, Sunset Blvd, also released in 1950, was a biting satire. Performance is at the heart of Sunset Blvd. It's a film about a faded star starring a faded star. Now that's a Hollywood twist. Gloria Swanson, once royalty of the silent film era, stars as Norma Desmond, in a bigger than life performance capturing the fantastic posturing of stardom. William Holden is the struggling screenwriter who latches onto the frayed fringes of Desmond's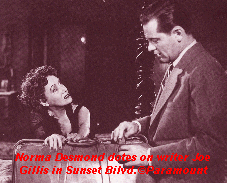 long out of style gowns in an attempt to keep from drowning in the Hollywood swamp. The force behind Sunset Blvd was a witty director and writer with a hot hand Billy Wilder. Wilder's edgy humor and direct filmmaking style made huge hits of the classic noir Double Indemnity and won an Oscar© for Ray Milland in The Lost Weekend and an nod as Best Director for himself. Award coin gave Wilder some latitude in laying the lash on Hollywood with Sunset Blvd., but Desmond was an easy target, and it was easy to see why Hollywood forgot this relic in favor of younger and more vibrant stars. Of course, the screenwriter was the ultimate whipping boy winding up something akin to a pool boy.
With the success of Sunset Blvd., Hollywood looked for other stories of stars fallen from the glitzy Hollywood heights. Bette Davis, with the taste of All About Eve's Margo Channing still on Hollywood's lips, starred in The Star, a romantic drama of a movie star trying to make a comeback. Bette failed to ignite any Hollywood excitement and the film was less about Hollywood and more about character.
Another seldom seen look at Hollywood ambition is Paddy Chayefsky's The Goddess. Loosely based on Marilyn Monroe, Kim Stanley's Emily Ann Faulkner is a blonde hungry for fame. Directed by Hollywood veteran John Cromwell from Chayefsky's screenplay, the film probably falls short on the less than glorious locks of leading lady Stanley. This is one role that called for an excessive eruption of screen sex appeal of which Stanley, fine actress that she was, could not deliver. The 1958 film garnered respectful reviews and disdainful box office.
Often thought of as a companion film to The Bad and the Beautiful, Two Weeks in Another Town (1962) once again teams star Kirk Douglas and director Vincente Minnelli in a Hollywood saga. This time out Douglas plays a faded movie star Jack Andrus looking to resuscitate his career as a director. Douglas is lots more convincing as the ruthless Jonathan Shields in the former picture. Somehow, it's hard to think of Douglas as a failure in anything and that's what Two Weeks asks of its audience. The movie is just as much about the fast lives of celebrities as it is about the movie-making process. Back-biting is served up with relish as relationships change according to success. Along with Douglas, Edward G. Robinson gets a wonderful role as once powerful director Maurice Kruger turning to an Italian production company to keep from sinking into the deep swamp of dead directing careers.
Though Two Weeks in Another Town may get heavy-handed in its melodramatic treatment, the performers are fascinating, the setting enticing, and Minnelli's control over the overall production makes this one slick Hollywood look.
The Stunt Man (1980) satirizes a Hollywood location shoot. The movie's thing, at all costs: when a stunt takes a bad turn, director Eli Cross barely blinks an eye. The ruthless, effervescent, cynical, survival instincts of director Cross rev up The Stunt Man's engine. There's some outstanding behind the scenes stunt choreography, highlighted by a wonderfully funny, perfectly staged roof-top chase.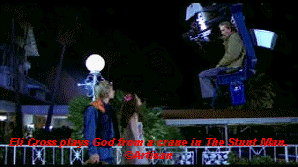 Writer/director Richard Rush was the force behind The Stunt Man. It took lots of patience and fortitude to get this movie green-lit, but Rush persisted in getting this biting look at the movie-making process made. Rush was ever-so-lucky to land Peter O'Toole as Eli Cross. The wan actor feasts on biting dialogue with wonderfully droll delivery, half the time flying high over his set on a crane, viewing the whole world as but another motion picture production challenge.
Some Hollywood tales live on the periphery of standard behind-the-scenes looks at the business. Sunset is a often entertaining effort from writer/director Blake Edwards that eschews the classic Hollywood insider structure. The spirit of Sunset is pure entertainment. The studio lot depiction is subservient to the terrific conceit, real-life legendary Western marshal Wyatt Earp meets cowboy movie star Tom Mix. When it focuses on the banter between Earp and Mix, slipping slyly behind the camera, Sunset is bright and witty. Unfortunately, Sunset draws its target more on being a murder mystery than a Hollywood opus. The sexual play of Hollywood big-wigs overtakes the back-lot dry wit with a descent into the moral corruption of Hollywood.
James Garner as Wyatt Earp and Bruce Willis as Tom Mix have lots of fun playing against each other. The laid back style of Garner and Willis' hip banter deliver a fresh version of the Earp/Doc Holiday combination. These two stars save the day and keep Sunset from clouding over with heavy-handed mystery plotting that is nothing more than "B" movie material.
Directed by Robert Altman, always a Hollywood outsider, The Player, 1992, takes special pleasures in satirizing the green-light process of getting a film made. The pitch meeting is taken apart with incisive delight. The mystery surrounding the murder of, yes, a writer, is set-up simply as a support system to poke fun at modern Hollywood's artistically barren "suits." Griffin Mill is the studio "suit" who will stop at nothing to stay on top. Tim Robbins' amoral insouciance as Mill is perfect fodder for satire. Whether basking in a hot mud spa baths with cucumbers cooling his eye-lids or coolly taking pitch meetings with a cavalier attitude, Robbins stays focused through Altman's lens. The script from writer Michael Tolkin is especially savvy from an outsider's point-of-view.
The screenwriter is often the main focus of Hollywood celluloid reflections. Low men on the totem pole, writers are often the easiest Hollywood targets. Offend a writer and you lose little or nothing. The Coen Brothers, Hollywood outsiders, developed a novelist seduced by Hollywood at the center of their Hollywood satire Barton Fink (1991) The Coen's surrealistic approach to the Hollywood experience alienates it from most standard Hollywood. The twists and turns of Barton Fink fail to ignite a fire despite some heavy pyrotechnical musings. John Turturro makes the screenwriter look more like playwright Clifford Odets than Odets himself. John Mahoney is outstanding as W. P. Mayhew, a seasoned screenwriter selectively sucking at the Hollywood nipple.
The Indie film has had its share of good filmmaking about itself. Writer/director Tom DeCillo's Living in Oblivion is a perfect little gem of a movie about moviemaking. Cleverly constructed film, borrowing from classics like Rashomon yet at the same time The independent filmmaking process plays itself out in layers of nightmares ,dreams and different points of view as frenetic director Nick Reve tries to keep his low, low budget movie on schedule played by Buscemi. Each sequence adds a layer of interest to the previous one. The behavior of the actors changes radically day to day and the delightful location shoot culminates in the filming of its own imaginative and hilarious dream sequence replete with a nightmare mother and a dwarf with giant pretensions. DeCillo is clearly poking fun at actors that add elements of art to their jobs that simply do not exist.
Steve Buscemi playing Nick Reve has never had a better opportunity to strut his stuff as the director's whose shoot turns into a nightmare that includes every conceivable miserable permutation of the perils of low budget filmmaking. Jamie LeGros is very funny as the pretentious leading man and Dermot Mulroney uses a patch to full advantage as the frustrated cameraman.
DeCillo delivers delightfully in this splendid spoof on movie making. Directing from his own script, he is comfortable enough to poke fun at everyone on both sides of the camera. I look for some interesting future work from him.
The star biopic is another time-honored look at Hollywood. Mommie Dearest (1981), the seething portrait of Joan Crawford from her daughter's point of view features a performance of such camp power that it works on that level alone. Faye Dunaway piles on the make-up, prances with the swagger of years of Hollywood glory and even gets down on her knees to scrub the floor obsessively. Other excellent biopics include Frances (1982), a sad-eyed dark toned tale of promise and failure. Jessica Lange is haunting as the beautiful tortured actress Frances Farmer. Chaplin (1992), directed by Richard Attenborough, is a sincere portrait of the great silent artist starring Robert Downey as the great screen clown.
The permutations of delight offered up by Hollywood's self-examination are endlessly fascinating. Plenty of films fall over their own wisecracks and the melodrama gets laid on heavier than senior movie star make-up, but a sampling of Hollywood celluloid is likely to deliver the goods and offer insights into the challenges of making movies.
Not all these Hollywood picks are available on DVD yet. Along with The Bad and the Beautiful, delivered in a very enjoyable transfer from Warner, Singin' in the Rain can be caught in glorious color on DVD in another Warner release. Judy Garland's great performance in A Star is Born is preserved on DVD in an excellent release from Warner again. The Stunt Man has been packaged as an outstanding special edition by Artisan with insightful and often hilarious participation by Richard Rush. Mommie Dearest gets full exposure from Paramount in an excellent DVD release. You can catch all the satire of The Player in a special edition DVD from New Line, including incisive commentary from director Altman and writer Tolkin. Deleted scenes and a featurette enrich the package. Director Graeme Clifford adds his commentary to the excellent Anchor Bay release of Frances. An early DVD release from Live Entertainment, Chaplin was shorted on the anamorphic enhanced for 16 x 9 and exists in a widescreen only version. You catch Sunset on DVD from Columbia in either widescreen anamorphic or pan & scan.
Still awaiting a deserved DVD release is the great Sunset Blvd. A Paramount release will likely street in the second on third quarter of this year. Hopefully, The trailer for Two Weeks in Another Town accompanying The Bad and the Beautiful is an indicator of a planned release of that film. Living in Oblivion, which was released on laser disc by Columbia, surely deserves to see DVD light. Barton Fink, probably the most outrageously off-center Coen Brothers flick, was a Fox laser disc release. Fox had suggested a late 2001 DVD release for the film, but as yet no Fink. Columbia has the rights to In a Lonely Place and I wouldn't be surprised to see a release later this year, though the studio has been cautious about flooding the market with classic catalog product. The Goddess is also controlled by Columbia. It appears that Warner has the right to The Star, though I wouldn't look for a DVD release of it anywhere soon if at all.


Selections from the Feature Archive include articles on Akira Kurosawa, Frank Darabont, Blonde Bimbos, Hollywood Street Gangs, or Vietnam: The Hollywood Pariah, and many more....
Puttin on the Ritz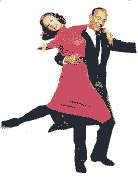 Fred Astaire and Cyd Charisse bring Silk Stockings to life, a remake of Ninotchka, one of many films successfully turned into musicals by the Hollywood dream factory. Read all about remakes into musicals by clicking on the divine dancers.
---


Charade/A,B



Successfully combining romantic comedy and suspense is no small achievement. Charade does it with panache.
---

The Movie Poster Archive includes extensive poster images from the films of stars like Susan Hayward, Kirk Douglas, Katharine Hepburn and many more. Our featured star is Kirk Douglas.
---


Have you visited Home Theater Talk lately? One of the friendliest places on the Net for Home Theater and DVD discussion, you can get help for installation problems or simply share your opinions with other Vidiots.
---
Brad Lang continues to add more interesting material to the extensive collection at Classic Movies. Everything from actors and actress to your favorite directors is linked at the site.
---


Mystery writer Fred Hunter digs into classic films on DVD. Check out his insightful reviews at The Classics on DVD.
---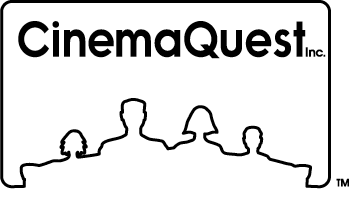 "Products and services perfecting home theater"
ISF Calibrations in Colorado, 6500K monitor bias lighting.
---


Glenn Erickson's insightful DVD reviews have been a Internet fixture for several years. Check out some of his sophisticated feature articles. Currently hosted by DVD Talk.
---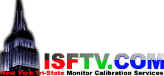 ISF Monitor Calibrations in the Tristate New York area. Lots of hardware info and frequent hardware peaks from video expert Kevin Miller. They may be judgmental, but that's the point, isn't it. Lots of DVD reviews plus news and more.
---

Gary Morris's insightful publication Bright Lights Film Journal turns the celluloid in films from a unique perspective. Click on the image above for more pure movie views.
---


DVD Demystified makes it all clear. The official Internet DVD FAQ for the rec.video.dvd Usenet newsgroups.
---


Looking for information about widescreen movies and hardware. The Widescreen Movie Center is the place to go.
---

Take a look at the merry images of America's gift to the movies: Hollywood Musical Posters are featured from The Movie Poster Archive.
---


I just love to watch the FBI Warning and that isn't enough, I am treated to a graphic designer's wet logo dream.
FBI Warning/
Logo Wars
---


L.A. Confidential (SE) /A,A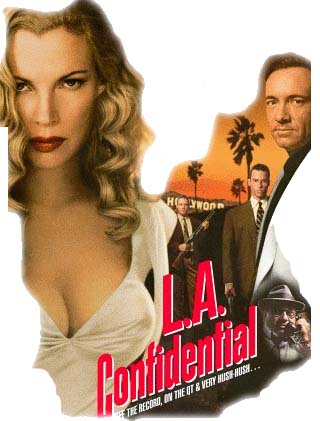 Unquestionably the best picture of 1997. Top-notch entertainment with superb acting.
---

Click on the DVD MIA symbol for profiles of DVDs missing in action.
Add films to the DVD MIA Master List by filling out a simple form. Click Here