A Star is Born (SE)/A,B
Warner/1954/176/ANA 2.35
A Star is Born ranks as one of the grand cinema comebacks. It's a first rate entertainment, produced as a vehicle for star Judy Garland, and does it ever make the most of her talents. Four years separate her last film for MGM, Summer Stock and this Warner Bothers showcase film. Summer Stock, made hard on the heels of her release from Annie Get Your Gun, was a struggle at best, and the final straw was her premature release from Royal Wedding and MGM. A remake of the 1937 drama starring Janet Gaynor and Frederic March, the George Cukor directed film is a dramatic musical, integrating terrific musical numbers as young Esther Blodgett becomes movie star Vicki Lester. Cukor also directed What Price Hollywood?, the original 1932 film which was reworked into A Star is Born, and the director's smooth handling of his star pays dividends in a fully realized performance.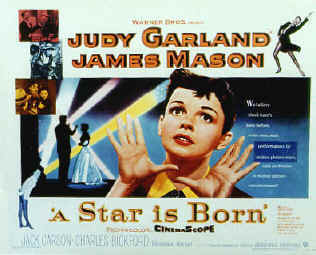 A classic story of Hollywood, A Star is Born chronicles the rise of Vicki Lester and the fall of Norman Maine. Maine discovers Esther at a benefit performance. She saves him from stage humiliation by some quick thinking with creative dance steps on stage. Norman convinces her to stay in Hollywood to pursue a film career and as she is molded into a star, they fall in love and marry.
Judy is wonderful in A Star is Born. Her own fragile history as a temperamental star echoes the behavior of Norman Maine and adds a layer of pathos beyond the script. George Cukor, famous for his handling of female stars, gets grand performances from his actors. Cukor communicates beautifully with Judy and her nuanced performance must give a special nod to the director. James Mason, beyond any reasonable screen evidence, makes Norman Maine a charming drunk. There are intolerable moments of drunken abuse, but a spark in Mason's eye reveals a life line to his humanity that goes deeper than the drunken star persona. Jack Carson does remarkable work as head of publicity Matt Libby. It's a venomous performance. Even when Maine abuses Libby early in the film, Libby is a rattlesnake ready to bite. Charles Bickford* with stentorian voice, commands respect, and as Oliver Niles, he is one of the most consistent characters in A Star is Born. Tommy Noonan, on the other hand, playing Esther's band leader buddy, is rather limp and uninspired.
The musical numbers are a constant joy. I love the wan hope of the ballad "It's a New World" when Vicki serenades Norman. The delightful "Someone at Last" shows off the incomparable energy of Garland, transforming her living room to a musical stage. The most famous musical number is probably the "Born in a Trunk" montage. This was not directed by Cukor and was a late addition to the film hoping to capitalize on Judy's charismatic singing and dancing.
Musically or dramatically, A Star is Born is a triumph. Filmed with exquisite grace by Cukor, acted with heart and passion by Garland and Mason, the film is a grand record of Hollywood.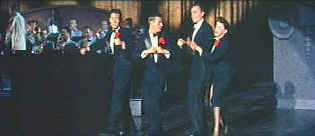 Blodgett props up Maine. ©Warner
A Star is Born went through some drastic cuts after its initial road show release. Most usable film elements have yet to be found, but sound track recordings exist and have been used in an unusual attempt to restore the fluidity of the production. The restoration elements are inconsistent, with some excessive grain on the extant filmed portions. The stills and dialogue tracks used to fill in the missing footage integrate well with the production and add a layers to the film, especially as a Hollywood backstage story.
The appearance of A Star is Born on DVD is a treasure. The virtues outweigh the shortcomings. Overall, the elements are smooth and detailed. There are a number of scenes in which grain shows prominently on solid light colored fabrics. You might catch a hint of grain on faces in several scenes. Some very slight edge flicker shows up, but it's minor. There is one scene in which there's a momentary frame glitch when Judy sings "Heaven's Door." Color depth is exquisite, showing off the lush production to best advantage. A few scenes have color pulsing due to element deterioration. Blacks are sumptuous with layers of black on black clearly defined. Saturation of bright solid colors is a virtual explosion of vitality. Shadow detail is excellent. Mixed to Dolby Digital 5:1, the music and songs are treated with elegant clarity. Dialogue is cleanly delivered with occasional directionality.
Included as special edition elements are three alternate cuts of "The Man That Got Away," a short clip from the deleted montage song "When My Sugar Walks Down the Street," and some newsreel and television footage surrounding the premiere and party for the film. Trailers for three versions of A Star is Born, 1937, 1954, and the Streisand remake of 1976, complete the package.
*Reader Eric Jacobs sadly pointed out my mistake in crediting Charles Bickford for the role of the studio head in Singin' in the Rain, which was played by Millard Mitchell. Thanks Eric.

Take a look at the merry images of America's gift to the movies: Hollywood Musical Posters are featured from The Movie Poster Archive.
---

The Feature Archive has articles ranging from Akira Kurosawa to Blonde Bimbos and John Ford.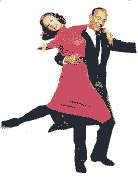 Fred Astaire and Cyd Charisse bring Silk Stockings to life, a remake of Ninotchka, one of many films successfully turned into musicals by the Hollywood dream factory. Read all about remakes into musicals by clicking on the divine dancers.
---


They may be judgmental, but that's the point, isn't it. Lots of DVD reviews plus news and more.


Click on the link to visit the judge's chambers.
---
Brad Lang continues to add more interesting to the extensive collection at Classic Movies. Everything from actors and actress to your favorite directors is linked at the site.
---


News, information, features about current films in theaters and in the pipeline. Easy to use interface.
---



The Big Combo has style to spare in reviewing films and producing feature articles. Check out their special "Lingo" section.
---

Gary Morris's insightful publication Bright Lights Film Journal turns the celluloid in films from a unique perspective. Click on the image above for more pure movie views.
---

Across the Bridge Posters won't sell you the Brooklyn Bridge, but have a look at their selection of movie posters.
---

Direct from the corridors of the Home Theater Forum, Home Theater Talk is the newest place on the Net to discuss everything home theater. Friendly atmosphere and knowledgeable folks are the secret ingredients.
---

Captain Blood: Errol Flynn, as the charismatic sea captain, says to his crew 'It's the world against us, and us against the world.'.
Need a daily fix of movie quotes. Reel Quotes Newsletter has the answer. Click on the Reel Quotes symbol for more.
---