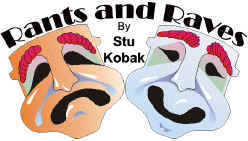 Taking pot shots at movies, movie-going and all things home theater isn't exactly a unique pastime on the Internet. It's probably a lot more prevalent than doling out praise. Point of view's the thing. We all may share like interests, but we bring our histories to the table when we express our opinions. So, for what it's worth, this space will be dedicated to my headache of the moment or that exquisite drink of entertainment that's pure pleasure to share.
Links to Rants and Raves by Date
April 21 2001
Inserts and the Pop-Up Window
June 2, 2001
FBI Warning/Logo Wars
July 22, 2001
Open the Vaults
October 3, 2001
New Edition: Bit by Bit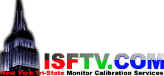 ISF Monitor Calibrations in the Tri-State New York area. Lots of hardware info and frequent hardware peaks from video expert Kevin Miller. They may be judgmental, but that's the point, isn't it. Lots of DVD reviews plus news and more.
---

Jim Doolittle
ISF Instructor. Premier calibrator and expert front projection system setup technician in the Boston area.
---

---

Need a daily fix of movie quotes. Reel Quotes Newsletter has the answer. Click on the Reel Quotes symbol for more.

The Movie Poster Archive includes extensive poster images from the films of stars like Susan Hayward, Kirk Douglas, Katharine Hepburn and many more. Our featured star is Frank Sinatra.
---


Selections from the Feature Archive include articles on Akira Kurosawa, Frank Darabont, Blonde Bimbos, Hollywood Street Gangs, or Vietnam: The Hollywood Pariah, and many more....
Robert A. Harris


Tilting at Hollywood
He's part of the dynamic duo that restored Lawrence of Arabia, Spartacus, My Fair Lady and Vertigo. Harris rides a white horse into the for the cause of preserving our film legacy. Click on the image to read more.


Have you visited Home Theater Talk lately? One of the friendliest places on the Net for Home Theater and DVD discussion, you can get help for installation problems or simply share your opinions with other Vidiots.
---