Bad and the Beautiful/ A, B+
MGM/1952/119/FS 1.33/BW
Every time I watch this quintessential Hollywood film, I marvel at the perfection of its construction. A film about Hollywood with a fierce bite made by a major studio and directed and acted by established icons of the screen. This is not an overtly satiric work and what missiles it fires off are not aimed at the big studios but at the renegade small fry looking to succeed at any cost, ruthlessly mining friendships for art or is it for anything for success.
The Bad and the Beautiful is remarkable for the way it defines relationships. The producer has never been given a better shot at screen immortality than in the portrait of Jonathan Shields. Each segment of the film examines the relationship of the producer to a key member of the filmmaking team. We learn what a special producer can bring in a close relationship to a director as Shields and Fred Amiel play out that segment of the film. Georgia Lorrison is a self pitying drunk when Shields' producer second sight reveals a movie star below all the layers of self doubt. And for James Lee Bartlow, Shields literally teaches the writer the art of screenwriting and takes him from the loneliness of novelist and typewriter to the art of collaboration. What drives Shields ultimately destroys these foundation relationships.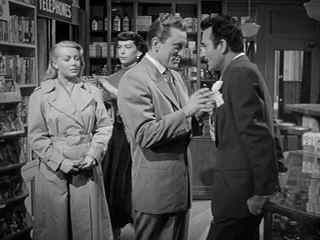 Jonathan the starmaker. ©Warner
Vincente Minnelli directs The Bad and the Beautiful at the peak of his powers. Given an Academy Award winning screenplay from Charles Schnee, Minnelli can concentrate on constructing picture perfect shots. He captures the feel of a Hollywood set with eloquent evocations of the grace of the big camera on a dolly or a boom. The structure of the screenplay is classic flashback used to perfection. The polished images of cinematographer Robert Surtees was recognized by the Academy Awards for black and white photography.
Sterling performances are a hallmark of The Bad and the Beautiful. Kirk Douglas brings his usual incredible energy mixed with an unpredictable brooding to the role of film producer Jonathan Shields. The magic of the Douglas performance adds an irresistible appeal to the heal Shields. What drives Shields? Is it ambition? Is it art? Is it the painful shadow of his long dead producer father? Opposite Douglas and probably giving her finest screen performance is Lana Turner playing movie star Georgia Lorrison. Not only does Turner command the screen with beauty and sensuality, in her most powerful scenes with Douglas her acting is outstanding. Dick Powell is wonderfully sardonic in the role of writer James Lee Bartlow and Barry Sullivan has an easy appeal as steady director Fred Amiel. The supporting actors are splendid starting with Walter Pidgeon giving producer Harry Pebbel more than his share of dignity, Gloria Grahame sashaying as a Southern belle in an Academy Award winning role and Gilbert Roland smoothly commanding the dance floor as "Latin lover" Goucho.
It's about time The Bad and the Beautiful made its beautiful black and white presence felt on DVD. The transfer from Warner is very nice indeed. Contrast ratio is excellent, delivering the glossy images with deep blacks. Source material is very clean save for some specs of dirt that do not intrude on the beauty of the images. Nice gray scale range is consisting delivered. High key lighting is properly dramatic and shadow detail is in perfect balance. There's very slight noise level below the dialogue and music on the mono sound track, but it's just short of annoyance. David Raksin's hauntingly beautiful score sounds properly lush.
The two sided special edition features a Turner made cable biography of actress Lana Turner. It's an interesting accompaniment to the feature, though it doesn't break any new documentary ground.
Reviewed on a Sharp 9000VX DLP Projector


Selections from the Feature Archive include articles on Akira Kurosawa, Blonde Bimbos, Frank Darabont, Steven Culp, John Herzfeld or Vietnam: The Hollywood Pariah, and many more....
The Bitch Brigade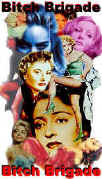 A line-up of lean-lipped actresses who marched through Hollywood in a high heeled goose step armed with razor sharp dialogue. Click on the image to read all about them.
---

---


A Star is Born/A,B



Judy Garland is brilliant in the great Hollywood tale of one star on the rise and another sliding into the abyss. James Mason is wonderful alongside Judy.
---

The Movie Poster Archive includes extensive poster images from the films of stars like Susan Hayward, Kirk Douglas, Katharine Hepburn and many more. Our featured star is Lana Turner.
---


Have you visited Home Theater Talk lately? One of the friendliest places on the Net for Home Theater and DVD discussion, you can get help for installation problems or simply share your opinions with other Vidiots.
---


Mystery writer Fred Hunter digs into classic films on DVD. Check out his insightful reviews at The Classics on DVD.
---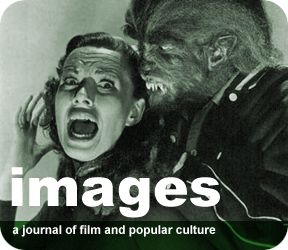 Images is a non-commercial Web site created for everyone who enjoys movies and popular culture. Images is published quarterly; however, new reviews will appear each week, so check back often.
---


Agoraquest is offering reviews, forums, news, and more dedicated to Sony products including, televisions, cameras, audio, DVD, and more.
---