Sunset/B,B+
Columbia-Tristar/1988/107m/ANA,WS 1.85,FS 1.33
Itís Hollywood at the cusp of talkies. Tom Mix is the king of the cowboys, breaking hearts and making movies. Studio head Alfie Alperin gets an idea to make a movie about the life of legendary lawman Wyatt Earp and brings him to tinsel town as the technical advisor on the new movie starring Mix as Earp. The two cowboys hit it off splendidly and while they are on screen together, Sunset sings.
In the course of Earpís short Hollywood adventure, the two cowboys have one nasty murder to solve and dirty Holly laundry to unravel. As directed by consummate Hollywood professional Blake Edwards, Sunset moves with grace and pace, adding bright one-liners to the mix of mystery.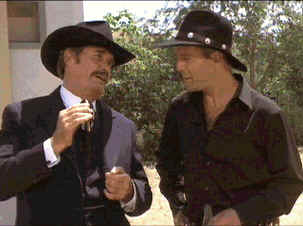 Earp and Mix, a great combo ©Columbia Tristar
Stars Bruce Willis and James Garner playing Mix and Earp respectively capture the light-hearted spirit. Terrific screen chemistry between the duo insures that the action is fun and the personas credible. Willis truly looks the role of a plastic screen idol driving around polished Dusenberg cars with cattle horns as ornaments. The weathered Garner brings a world weariness to the role of Earp, a hint of western dust in his voice and memory of two many gunfights reflected in his eyes. Malcolm MacDowell provides ample villainy as the perverse studio head.
This is the first time Iíve been treated to Sunset in all its widescreen beauty. The anamorphic 2.35 images is very sharp. Contrasts are as bold as movie cowboys. Velvet blacks include detail. Color is slightly toward red, however, and the weathered western skin of Wyatt Earp looks like itís accumulated too must red prairie dust. The Dolby 2-channel sound is excellent, showing off the Henry Mancini score. Mancini'í score is lots of fun, even if it borrows liberally from classic westerns of the fifties. Ambient detail is also excellent. A rousing movie turns into a rousing DVD. Give Sunset a shot!


Selections from the feature archive include articles on Akira Kurosawa, Frank Darabont, Blonde Bimbos, Hollywood Street Gangs, or Vietnam: The Hollywood Pariah, and many more....


Catch the Hollywood take on Blonde Bimbos by clicking on the image above.
---

Brad Lang continues to add more interesting material to the extensive collection at Classic Movies. Everything from actors and actress to your favorite directors is linked at the site.
---

Direct from the corridors of the Home Theater Forum, Home Theater Talk is the newest place on the Net to discuss everything home theater. Friendly atmosphere and knowledgeable folks are the secret ingredients.
---


The DVD Forum is an international association of hardware manufacturers, software firms and other users of Digital Versatile Discs (the "DVD Format"), created for the purpose of exchanging and disseminating ideas and information about the DVD Format and its technical capabilities, improvements and innovations.
---


A vast reservoir of DVD information, reviews, the kitchen sink. Check out their huge DVD database including reviews from many sites.
---

The Movie Poster Archive includes extensive poster images from the films of stars like Susan Hayward, Kirk Douglas, Katharine Hepburn and many more. Our featured star is Susan Hayward