Searchers, The/A, B
Warner/1956/119/ANA 1.85,FS 1.33
One of the most brilliant Westerns ever made! The relentless nature of the plot entangles an audience in a complex emotional web. Ethan Edwards, the war weary searcher, will not give up the hunt for his niece who was stolen away by the Comanche. The snows turn to sun-baked ground and to snow again and Edwards keeps coming. And coming.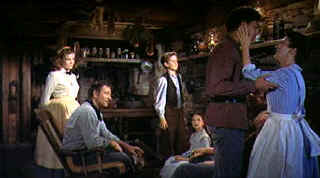 A perfect Ford composition. ©Warner
John Wayne has his finest screen moments in creating the flesh and blood character of Ethan Edwards. There's a side to Edwards that is easily recognizable as the hero of many Ford directed screen outings, yet there is a hate burning within him that twists that ideal and with it the notions of the film's audience. Jeffrey Hunter has a perfect freshness and innocence about him that blends perfectly with the unyielding dried leather exterior of Edwards. His Martin Pawley tempers the unswerving hatred that drives Edwards. The casting is uniformly good with the exception of Natalie Wood, who seems simply out of place in this film. The hard reality of this brilliant gem does after all have a flaw under a jeweler's glass.
Ford has never used his favorite location of Monument Valley to greater advantage. The sweeping vistas that frame The Searchers are magnificent. The photography of Winton Hoch captures it in all its majesty. This may have been the longest film that Ford ever made at two hours and twenty-four minutes, but the film moves at a remarkable pace. This is an utterly satisfying cinema experience.
The transfer print is lovely for the most part, however, color registration problems crop up a number of times, taking away from the overall beauty of the DVD. A full-blown restoration of The Searchers might be in order. The colors are exciting. The images are sharp and breathtaking. Along with a gorgeous theatrical trailer, the production includes excerpts from a television show, "Warner Brothers Presents," featuring elements for a making of type documentary on The Searchers. The treatment creaks with coyness, and it's more fun to watch as a relic of early television than as an edifying view of the film. The mono sound is clean.
One of these days someone will make a modern Western that will surpass The Searchers. To lift a phrase from Ethan Edwards, "That'll be the day."


Selections from the Feature Archive include articles on Akira Kurosawa, Blonde Bimbos, Frank Darabont, Steven Culp, John Herzfeld or Vietnam: The Hollywood Pariah, and many more....
Director Walks the Wire


Balanced by an armor of movie lore and filmmaking daring, director John Herzfeld is comfortable walking the high wire. Check out this interview by Stu Kobak.
---


Click on the image above for a "dream interview" with director John Ford.
---

.
The Movie Poster Archive includes extensive poster images from the films of stars like Susan Hayward, Kirk Douglas, Katharine Hepburn and many more. Our featured star is John Wayne
---


With the introduction of the Columbia Super Bit collection it looks like a new wave of repackaging marketing might be just around the corner.
New Edition: Bit by Bit