Clark Gable(1901-1960)
By Stu Kobak
They called him the king for good reason. Gable dominated the Hollywood box office for so many years they stopped counting. Women swooned at his masculine screen presence and men, well Gable was a man's man. Rhett Butler in Gone with the Wind is probably his most famous role, and you have to give Gable his due on GWTW. He brought amazing emotional substance and a cynical reality to the movie. Without Gable I think GWTW with have blown away quietly.
Yet, there are so many other memorable roles in the course of more than 80 Hollywood films. Early parts had Gable playing characters named Rid Ridell, Patch Gallagher, and Blackie Gallagher and even Giovanni Severi. His most famous Blackie was Blackie Norton, one of my favorite Gable roles, in San Francisco. I still recall his looking into Jeanette MacDonald's eyes and saying "I like to look into those big lamps of yours." For a number of years after seeing San Francisco I was in love with MacDonald. I even sat through all those interminable Jeanette MacDonald/Nelson Eddy light operatic musicals, tramp, tramp, tramp.
Blackie Norton was a tough guy with a dark side, just as Rhett Butler was a tough guy with a dark side. Both characters found softness buried under their masculinity. There were other great roles that Gable created on the screen. Fletcher Christian in Mutiny on the Bounty lives in the pantheon of movie heroes, and in Jack Thornton in Call of the Wild, Gable played loves scenes with Loretta Young and a dog to boot.
Who could have guessed that a comic role would vault Gable to Hollywood stardom. It Happened One Night set off Hollywood fireworks for virtually everyone associated with the movie. Frank Capra's delightful road movie paired Gable with Claudette Colbert to deliciously spoof the foibles of the wealthy. Gable gets Best Actor, Colbert Best Actress, Capra Best Director, and Columbia studio head Harry Cohen Best Picture and carnal access to more aspiring actresses than Hollywood could accommodate.
Not everything Gable touched turned to gold. I can't help twittering when thinking of Gable as a song and dance man in Idiot's Delight, a dull MGM attempt to make Norma Shearer and Gable a hot screen item. Gable even awkwardly sings and dances his way through a version of "Puttin' on the Ritz" that will forever be linked in my mind with Peter Boyle's Young Frankenstein performance of the same number. I am not sure who was stiffer.
Rugged Clark Gable was at home in many screen roles. The adventurer suited Gable especially well as played out in Gone with the Wind or Soldier of Fortune. He did plenty of work in uniform as a seafaring man in Mutiny on the Bounty, China Seas, or Adventure and under water in Run Silent, Run Deep. Westerns were a perfect fit. Films like The Misfits, The Tall Men, Honky Tonk, Across the Wide Missouri, King and Four Queens or Lone Star were all solid Gable vehicles. Personally, I liked Gable best as a newspaper man. Tough, worldly, and fair, with a great sense of humor and an eye for the ladies, Gable in the newsroom worked for me. He was reporter in It Happened One Night and Love on the Run, a journalist in Teacher's Pet, a foreign correspondent in Comrade X, as an editor in After Office Hours, a newsreel report in Too Hot to Handle, a war correspondent in Somewhere I'll Find You, and an American journalist in love with a Russian ballerina in Never Let Me Go. Pretty good credentials if you ask me.
Married five times, Gable's most glittering union was with actress Carole Lombard which ended with the tragic plane crash that took her life. Joan Crawford teamed with Gable eight times, more than any other actress. Jean Harlow traded banter with Gable in six starring roles and probably would have kept bickering save an untimely death. Lana Turner shared the marquee with him four times. He worked twice with Loretta Young, twice with Claudette Colbert. His final film, as he was approaching sixty, was The Misfits, opposite Marilyn Monroe, and man, did they ignite screen sexuality.
There's not a lot of Clark Gable on DVD as yet. As the close of 1999 approaches, only Gone with the Wind and Run Silent, Run Deep are currently available on the little shiny discs. It Happened One Night is scheduled for release on December 28th. Hopefully, this will be a restored print since the last release on laser disc was painfully short of visual quality.
Click on the thumbnail for larger images.


Selections from the Feature Archive include articles on Akira Kurosawa, Frank Darabont, Blonde Bimbos, Hollywood Street Gangs, or Vietnam: The Hollywood Pariah, and many more....
Roman Holiday


Join the editor and his family on a trip through Roman movie sites in this unusual feature.
---


Charade/A,B



Successfully combining romantic comedy and suspense is no small achievement. Charade does it with panache.
---

Click on the DVD MIA symbol for profiles of DVDs missing in action.
Add films to the DVD MIA Master List by filling out a simple form. Click Here
---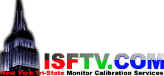 ISF Monitor Calibrations in the Tristate New York area. Lots of hardware info and frequent hardware peaks from video expert Kevin Miller. They may be judgmental, but that's the point, isn't it. Lots of DVD reviews plus news and more.
---


Excellent British based DVD review site that features Region 2 and Region 1 releases. Check out their fine interviews as well.
---


"CinemaQuest has matched the correct TV color of gray in a light fixture."__Joe Kane
Monitor bias lighting in a pre-packaged configuration. Take the strain off your eyes.
---

The Argonaut Foundation is involved in promoting film, film score, and movie location restoration. They are currently involved in promoting the restoration of the site for John Wayne's The Alamo. For more information, click on the picture of the Duke.
---


Manufacturer of computer-video interfaces, switchers, distribution amplifiers, computer-video scan converters, and high resolution cable. Found in many high end home theater systems.
---


BargainFlix doesn't sell movies! We just tell you where to get them for the best price! DVD reviews, giveaways and more.
---

Have you visited Home Theater Talk lately? One of the friendliest places on the Net for Home Theater and DVD discussion, you can get help for installation problems or simply share your opinions with other Vidiots.
---


A home theater site filled with a host of useful information, including links to many other site.
---


Timely DVD reviews and an easy-to-use interface. Weekly contests.
---

Kinoeye Archive
This is a resource of all content-rich materials on the web relating to Central and East European cinema. The ultimate aim of the Kinoeye Archive is to provide a near-as-damn-it definitive index of intelligent and thoughtful English-language analysis of Central and Eastern European cinema on the web.
---
MRQE
Find reams of movie and DVD reviews at the Movie Review Query Engine, a index of reviews appearing on the Internet.
---


Comprehensive DVD review database. Easy to use interface with specific region searches.
---


Excellent resource for movie review links, with many early looks.
---