New Editions: Bit by Bit

IWell, it appears we've been bit again. Columbia is releasing a number of their early DVD releases as Super Bit DVDs, a bare bones high bit rate treatment of titles. Are consumers once bitten still susceptible to many more bottom bites? The answer is blowing in the wind of the bottom line, sales. How many will seek out the same title over and over again? It's true that many of the early titles released on DVD were marketed to a much smaller audience and why not deliver the best of the latest technology, as long as it is not a ploy to re-sell the same material over and over again.
During the laser disc era, it seemed like studios were forever repressing, repackaging and reinventing the same movie over and over again. We've suffered somewhat of the same fate with DVD. A fair number of early DVD pressings weren't 16 x 9 enhanced anamorphic transfers. Some were only rehashed laser disc pressings. A number of these have been repressed to good effect. Another scenario practiced by some studios is a primary DVD release and then a following special edition release. This is certainly fair play if the buying public is armed with the foreknowledge of the impending special edition. Universal has even released special editions of a few titles followed by Ultimate Editions. At least the company is not secretive about it and it does not appear to be a way of sucking the public into buying multiple editions of titles.
Back to the Super Bits. My big question is why not release unreleased titles as part of a Super Bit collection. Wouldn't the movie loving public reap more benefit from a new title instead of a bulked up bit version of a DVD already in release. I know Columbia is going to sell plenty of Fifth Element Super Bit DVDs to all those techies that have been using the original transfer as a measure of high-end system performance. Any wanting to make a Super Bit purchase of Desperado be my guest. Air Force One is a terrific action flick already available in a special edition director Wolfgang Peterson's audio commentary. What's the story here: Super Bits for superstars? Johnny Mnemonic? It's a title that I liked very much, but few others of the critical community happen to agree. How much better will Crouching Tiger Hidden Dragon play by piling on the bit treatment.


I'll give the Super Bit masters the benefit of the doubt on this one. There's enough reason behind this new concept beyond milking the cash cow. I certainly applaud the notion of delivering the best picture possible on DVD. Bombard me with bits boys, but how about new bits.
Links to Rants and Raves by Date
April 21 2001
Inserts and the Pop-Up Window
June 2, 2001
FBI Warning/Logo Wars
July 22, 2001
Open the Vaults


Selections from the Feature Archive include articles on Akira Kurosawa, Blonde Bimbos, Frank Darabont, Steven Culp, John Herzfeld or Vietnam: The Hollywood Pariah, and many more....
Director Walks the Wire


Balanced by an armor of movie lore and filmmaking daring, director John Herzfeld is comfortable walking the high wire. Check out this interview by Stu Kobak.

The Movie Poster Archive includes extensive poster images from the films of stars like Susan Hayward, Kirk Douglas, Katharine Hepburn and many more. Our featured star is Susan Hayward
---
---

Click on the DVD MIA symbol for profiles of DVDs missing in action.
Add films to the DVD MIA Master List by filling out a simple form. Click Here


Charade/A,B



Successfully combining romantic comedy and suspense is no small achievement. Charade does it with panache.
---


Have you visited Home Theater Talk lately? One of the friendliest places on the Net for Home Theater and DVD discussion, you can get help for installation problems or simply share your opinions with other Vidiots.
---


The National Film Preservation Foundation (NFPF) is the nonprofit organization created by the U.S. Congress to save America's film heritage.
---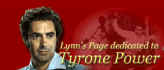 An elegantly presented fan site dedicated to one of Hollywood's great action stars.
---


Classic Images on classic films, featuring news, reviews, obituaries, film convention reports, and detailed articles on film people, from the most famous to the most obscure
---