Omaha (The Movie) SE/ C+,D
Versatile Media One/1994/85/FS 1.33
Here's one for filmmakers plugging away in nether reaches of America: Omaha (The Movie). Dan Mirvish's debut feature makes the most of the Omaha setting for yet another young man's search for direction.
Light-hearted and sweet centered, playful Omaha pokes fun at Nebraska's largest city. The Omaha portrayed by Mirvish is easy satiric fodder, but that doesn't tarnish the brassy innocence of the film. Charming bits and pieces don't overcome a fairly simplistic script.
Mirvish does get a lot of mileage out of then Omaha Mayor P.J. Morgan. Sitting on a motorcycle dressed in his best leather, the mayor presents Omaha highlights; interspersed with the action, the Omaha commentary is quite winning. It funny because of the style in which it's juxtaposed against the action. There's a memorable family photo shoot in the middle of nowhere from the feet up. Give me that recipe for the Buddhist fire ceremony again. The natural food stores must be satisfied. And the hand written title placards are pure inspiration. I don't recall ever seeing it done in this fashion fashion.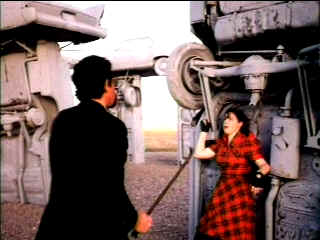 Face-off at Carhenge. © 1994 Bugeater
So, what do Colombians, Nepal, Haircuts, Carhenge, kickboxers and Emeralds have to do with each other? They form the basis of Simon's identity odyssey through Omaha. Perhaps the Mayor of Omaha could explain it better. Personally, I would have like more Omaha and less dull jewel pursuit.
Hughston Walkinshaw doesn't add much spark to the Omaha inspiration. He plays native son Simon with rather mundane introspection. Jill Anderson is a bundle of dizzy energy and provides many of the best Omaha moments as Gina, the high kicking Tai-kwan-do gal with a flare with the scissors and zest for intrigue. She's the Dorothy of Omaha with quick feet and dogged determination, but no ruby slippers.
I don't even want to speculate on why the image breaks into pixilized detail in far too many scenes. It adds an ugly dimension to an otherwise serviceable transfer. Black levels are decent and it's mostly sharp enough. The transfer is likely limited by the source material. Shadow detail is also fine. Some soft scenes. Lighting blows out detail in some instances. Minor color bleeding in some the more saturated materials. Moments of jitter spring up here and there. There were some source markings and at least one master tape aberration that mars one scene momentarily. Mono sound is clear. Bottom line: is it watchable? Yes. Does the transfer detract from the film? Yes.
An audio commentary is provided by writer/director Mirvish and Slamdance projectionists Gabe Wardell and Skizz Cyzyk. The anecdotes are quite winning and funny. Yes, there is really a Carhenge in Alliance, Nebraska. Mirvish notes that the almost eight minutes of credit fat was padding for what is a short feature. Yes, and you can find out the history of Carhenge too


Selections from the Feature Archive include articles on Akira Kurosawa, Frank Darabont, Blonde Bimbos, Hollywood Street Gangs, or Vietnam: The Hollywood Pariah, and many more....
Sturges Emerges



Preston Sturges was Hollywood's resident comic genius for more than a decade. His movies are timeless. Click on his image to read all about it.
---

The Movie Poster Archive includes extensive poster images from the films of stars like Susan Hayward, Kirk Douglas, Katharine Hepburn and many more. Our featured star is William Holden.
---


Little Fugitive (SE)/A,B+



Remarkable raw filmmaking from Morris Engel. Bodies laid out end-to-end present a picture of 1950s America. The photography is so startling that it could actually be broken down into a volume of stills.
---


Have you visited Home Theater Talk lately? One of the friendliest places on the Net for Home Theater and DVD discussion, you can get help for installation problems or simply share your opinions with other Vidiots.
---

The Cinematheque is a cultural, arts organization that programs year-round specialty film series at the newly renovated, landmark 1922 Egyptian Theatre on Hollywood Boulevard!
---


Mystery writer Fred Hunter digs into classic films on DVD. Check out his insightful reviews at The Classics on DVD.
---
MRQE
Find reams of movie and DVD reviews at the Movie Review Query Engine, a index of reviews appearing on the Internet
---
.


A new Films on Disc space dedicated to purging accumulated home theater angst and other movie related frustrations, with a measure of praise to balance the vitriol. The first column takes on:
Inserts and the Pop-Up Window