Little Fugitive,The(SE)A-,B+
Image/1953/80m/BW 1.33
Really quite a remarkable film, an ode to a past world of working class glitter, The Little Fugitive should not be passed up. Too many home theater enthusiasts are immediately turned off by the simplicity of black and white images (Not really so simple, are they?) and short change themselves of experiencing divine movie watching.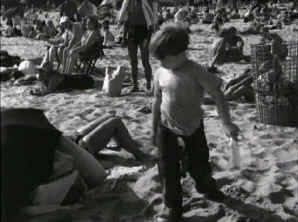 Joey collects bottle at Coney.©Kino
Two young brothers living in working class Brooklyn play in the streets, hang out with the guys, and interact with each other like myriad brothers before them. Joey is seven and his big brother Lennie is ten. The mundane neighborhood summertime play takes on another dimension when Lennie and his older friends decide they want to get rid of Joey for a spell. They convince Joey that something terrible has happened during the course of their play. The younger boy is petrified by the ramifications of his act and runs away from the scene to a place whose wonders can make him forget almost anything: Coney Island.
Photographed and related from the point of view of the young boy, The Little Fugitive brings to life the grand energy of the bustling beach. Bodies laid out end-to-end present a picture of 1950s America. The photography is so startling that it could actually be broken down into a volume of stills.
Young Richie Andrusco is perfectly natural under Engelís direction. Perhaps itís the naturalistic style of shooting that makes the first time actor so comfortable under the lensí eye. He never did make another motion picture though. But above all, the camera is the star and Morris Engel does an amazing job of making his instrument sing the song of Coney Island.
I must relate how powerful this film was when seen through the impressionable eyes of youth. Once upon a time when I was somewhere between Joey and Lennieís age, I ran away to Coney Island from my Queens home. Youíd never guess what inspired this fabled destination. Fortunately I stopped at my grandmotherís apartment in Brooklyn to charm a few bucks from her for the amusements and hot dogs and before the long day and night had ended the police found me wandering the Coney boardwalks and speeded me home in a patrol car.
Would-be filmmakers can use The Little Fugitive as a study course in how to approach filmmaking. The love embellished on the celluloid is evident in every frame. As a bonus, Kino Video has packaged The Little Fugitive as a special edition with audio commentary by director Morris Engel. Remember, heís looking back almost fifty years, but he still does a credible job examining the experience. The elements for the DVD are in very good shape. Expect clean images with good contrast. Some of the dubbing sounds a bit false, but thatís not the fault of the DVD. Sound is clean and image is sharp enough to satisfy photography lovers. Not to be missed!

Vanishing, The/A,B


Like a perfect short tale from Poe. Not typical fare digested by American audiences. The Vanishing, a film that ranks with classics of the genre, must be considered a collectible. In Dutch with English subtitles.
---

Click on the DVD MIA symbol for profiles of DVDs missing in action.
Add films to the DVD MIA Master List by filling out a simple form. Click Here
---


The Movie Poster Archive include extensive poster images from the films of stars like Susan Hayward, Kirk Douglas, Katharine Hepburn and many more. Our featured star is Spencer Tracy.
---


Selections from the Feature Archive include articles on Akira Kurosawa, Frank Darabont, Blonde Bimbos, Hollywood Street Gangs, or Vietnam: The Hollywood Pariah, and many more....




Is North by Northwest Hollywood's definitive exploration of the nose? From schnozzles to beezeers, film mavens make the most of the foremost. Click on Mount Hitchcock for more.
---



Mystery writer Fred Hunter digs into classic films on DVD. Check out his insightful reviews at The Classics on DVD.
---
MRQE
Find reams of movie and DVD reviews at the Movie Review Query Engine, a index of reviews appearing on the Internet.
---

Manufacturer of computer-video interfaces, switchers, distribution amplifiers, computer-video scan converters, and high resolution cable. Found in many high end home theater systems.
---