Bell, Book and Candle/B,,B+
Columbia/1958/103m/ANA 1.85
A light, comic soufflé , Bell, Book and Candle might at first seem dated, but it's charm overcomes the binds of time to provide a delightful romp through the recesses of a once and innocent New York.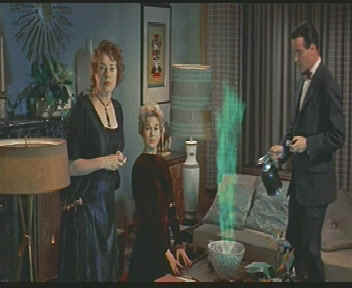 A witch's work is never done. ©Columbia
James Stewart plays Shep Henderson, a New York book publisher who happens to live above beautiful blonde antique dealer Gillian Holroyd, amply embodied by Kim Novak. Why the gorgeous Gillian is pining for a man is beyond me, but she spots Shep one wintry night and decides he's the man for her. And she's just the girl to incant the right words. Gillian is a witch. There's more magic behind those painted on eyebrows than meets the script.
Aiding and abetting Gillian in her light practices of the dark art are daffy aunt Queenie, who lives in the same building, effervescent brother Nicky who bangs a mean bongo drum and wants nothing more from his dark powers than to extinguish lamp post lights with the snap of a finger, and a purring feline named Pyewacket. Shep's obnoxious fiancée plays perfect foil for Gillian's darker arts and writer Sidney Redlitch completes the coven of actors convened by director Richard Quine to create his spell of comedy.
Gillian initially uses her witch's wiles to capture Shep's heart, but in the end it is her beauty that must win out. Methinks some better writing could have conjured a few more delicious uses for Gillian's magic, but the inspiration of incanting writer Sidney Redlitch from the beaches of Mexico to New York makes up for any other lack of imaginative magic. Redlitch adds the unpredictable ingredient to the comic brew that is otherwise a somewhat too pat.
Stewart seems equally at ease charming co-star Kim Novak under the comic spell of Bell, Book and Candle or through the San Francisco mists of Alfred Hitchcock's Vertigo, which also starred the same pair of actors in 1958. Novak looks hauntingly beautiful through the glistening lens of cinematographer James Wong Howe. Jack Lemmon gives a manic performance as brother Nicky and Elsa Lanchester is perfectly at home as Aunt Queenie. Ernie Kovacs makes the most out of Sidney Redlitch.
Time and proper storage have been kind to the film elements of Bell, Book and Candle. Or maybe a witch's wand passed over the film spontaneously restoring its youth. Whichever the case, movie lovers get the benefit of beautiful velvet blacks, rich colors, and subtle textures that all add to the pleasure of watching this thoroughly charming comedy. Focus remains sharp throughout, and contrast provides refreshing snap to the presentation. There aren't many wrinkles in Kim Novak's formfitting black outfit, but that is not due to any fault in the DVD transfer. Every detail on the film is clearly replicated on the DVD. George Duning's easy to listen is clean and dialogue is clear on Dolby Digital Mono soundtrack. In addition to a theatrical trailer for Bell, Book and Candle, the DVD contains trailers for Mr. Smith Goes to Washington and The Man from Laramie.
---


Selections from the feature archive include articles on Akira Kurosawa, Frank Darabont, Blonde Bimbos, Hollywood Street Gangs, or Vietnam: The Hollywood Pariah, and many more....



Catch the Hollywood take on Blonde Bimbos by clicking on the image above.
---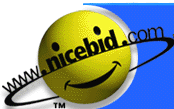 Nicebid.com is a well organized auction site. Movie fans can browse through the movie section for posters and star photos.
---

DVD Gold
specializes in Region 2 films, and spins gold about the latest DVD releases in England and elsewhere. Check out the new site.
---

Gary Morris's insightful publication Bright Lights Film Journal turns the celluloid in films from a unique perspective. Click on the image above for more pure movie views.
---

Kinoeye Archive
This is a resource of all content-rich materials on the web relating to Central and East European cinema. The ultimate aim of the Kinoeye Archive is to provide a near-as-damn-it definitive index of intelligent and thoughtful English-language analysis of Central and Eastern European cinema on the web.
---

The Movie Poster Archive include extensive poster images from the films of stars like Susan Hayward, Kirk Douglas, Katharine Hepburn and many more. This month's featured star is James Stewart
---