Mr. Smith Goes to Washington(SE)/A,B+
Columbia/1939/130m/FS 1.33/BW
No matter how many times I see this film it never fails to bring tears to my eyes or choke me up at various moments. The exact scene is not quite predictable and I canít be sure if itís "sense memory" bringing me back to an earlier time when the cynical strains of adulthood hadnít yet taken over my being. Smith is a fresh experience for me each time. I have never marveled quite so at the brilliance of James Stewart as the wide-eyed Senator. I just sort of took his passion for granted. It is a brilliant performance. This great film ranks amongst my favorites.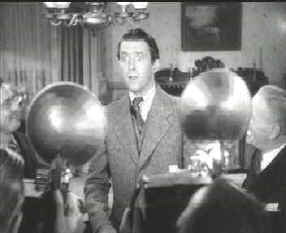 Smith meets the Press. ©Columbia
Mr. Smith Goes to Washington was a very controversial film in its day. Filmed with war raging in Europe, many were sensitive to director Capraís portrayal of corruption in Washington's highest places. Good triumphs over evil at the conclusion of the film, but the queasiness over the extent of political corruption is forever an unsettling reminder of what goes on behind closed doors in the power centers of our country.
Director Frank Capra got it just right with Mr. Smith Goes to Washington. Capra combines charm, humor, drama, and Americana brilliantly. No element of this film is out of harmony. Sentimental scenes of Jeff Smith contemplating the world in the shadow of the Lincoln Memorial are balanced by a delicious bit of business with a hat as Smith meets socialite Susan Paine. Capraís actors are at their best in Mr. Smith Goes to Washington. Alongside Stewartís great work, Jean Arthur brings her cynical screen siren to delightful life. Claude Rainesí eloquent delivery of dialogue as Senator Joseph Paine resonates with the haunting beauty of loss. Edward Arnold is equally brilliant as bullying political boss Jim Taylor, Thomas Mitchell compliments Arthurís work wonderfully as correspondent Diz Moore, and Harey Carey brings a generous helping of humanity to the role as Vice President.
It's wonderful to watch a classic like Mr. Smith Goes to Washington looking better than I have ever seen it. The transfer from Columbia is mostly very sharp and the contrast is just right with the black and white palette presented full range. A number of choppy splices and a few scenes that are too soft. Element damage is mostly confined to specks of dirt or an errant scratch, and it never gets in the way of the pure pleasure provided by this beautiful film. The mono sound is steady with no distortion or hiss.
Packaged as a special edition, Mr. Smith Goes to Washington includes an audio commentary from Frank Capra, Jr., the director's son. Capra's memories of his father's style and feelings about the actors is delivered with casual elegance. Capra is easy listening, and you get wonderful insights into Harry Carey as the Vice President of the Senate or Edward Arnold as boss Jim Taylor. Capra's relationship with his actors is brought to t he forefront time after time. You come away feeling the secret to Capra is the way he works with actors, but don't that fool you because Capra knew story and delivered it magnificently. There's also a short about the making of the movie, hosted by Capra Jr., with comments over the clips from the film. It's very brief and adds nothing that isn't on the commentary track. Trailers for Smith, Lost Horizon and It Happened One Night are included in the package and well as some publicity art.
Mr. Smith Goes to Washington is as timely today as it was 60-odd years ago. It's a film that should be seen be every school child and cherished as part of our heritage.


Selections from the feature archive include articles on Akira Kurosawa, Frank Darabont, Blonde Bimbos, Hollywood Street Gangs, or Vietnam: The Hollywood Pariah, and many more....



Preston Sturges was Hollywood's resident comic genius for more than a decade. His movies are timeless. Click on his image to read all about it.

---

The Movie Poster Archive include extensive poster images from the films of stars like Susan Hayward, Kirk Douglas, Katharine Hepburn and many more. This month's featured star is James Stewart
Imaging Science Foundation


The Imaging Science Foundation promotes proper standards in home theater viewing. ISF trained technicians offer monitor calibration services to consumers. The difference in a properly calibrated monitor can be astounding. Click on the image to find an ISF member near you.
HOT LINKS
DVD Verdict
They may be judgmental, but that's the point, isn't it. Lots of DVD reviews plus news and more
The Home Theater Forum
Looking for lively and helpful exchanges on home theater, DVD, movies. Visit this friendly site and get a hardy welcome.
Home Theater Reference Reviewing System



When you read a DVD review it's of utmost importance to know what equipment is being used to evaluate quality. Click on the projector to find out more.