Man from Laramie/A-,B-
Columbia/1955/104m/ANA 2.35/PS 1.33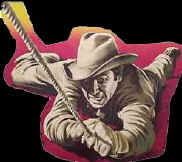 Memory can play the meanest tricks on you. Twenty or thirty years after you've seen a great movie, you meet it again, and it's not that good. With the release of The Man from Laramie on DVD, I could hardly contain my excitement nor temper my trepidation. My images of this film actually date back to it's initial theatrical release. It blew me away then. One scene vividly stayed with me always. I am happy to report that time has been kind and The Man from Laramie is still a tough, terrific western, not to be missed!
A typical Western story of revenge, The Man from Laramie steps up in class through an intelligent script and outstanding character portrayal. Will Lockhart is the man that crosses hostile Indian country with three wagons of supplies to arrive in Coronado, New Mexico. Lockhart's arrival stirs things up when he is confronted by belligerent Dave Waggonman, the hot-headed son of dominating land baron Alec Waggonman. Vic Hansbro, Waggonman's ranch boss, steps in between Lockhart and Dave, trying to control the situation with reason. Strong plot-woven psychological elements strengthen character motivation adding to the tapestry of pain. Lockhart is suffering from the loss of his younger brother. Vic Hansbro broods over Alec Waggonman's blind paternal love for his son. Boorish bully Dave Waggonman shrivels in the shadow of his rock hard father. And Alec Waggonman is haunted by a foreboding dream.
Anthony Mann's direction is straight-forward with brilliant story-telling emphasis. Like his favorite lead actor, there's no fat associated with Mann's directing style. Pacing is near perfect. The actors are a joy to watch. James Stewart gives Will Lockhart a balance of humanity and hardness, hallmarks of his western roles. Seventy-five year old Donald Crisp makes a formidably stern Alec Waggonman. The always terrific Arthur Kennedy is a gritty Vic Hansbro. Veteran character actress Aline MacMahon plays a strong-minded frontier woman with humor and assurance. Alec Nichol as Dave and Cathy O'Donnell as Waggonman cousin Barbara fail to offer up the subtlety and presence of the other actors.
Not everything in The Man from Laramie fits perfectly. Bushwhacker Chris Boldt's motivations are left in the dirt of a dark alley. Though Barbara Waggonman's presence serves the film in a number of ways, her character is rather weak, perhaps owing to an insipid performance from Cathy O'Donnell.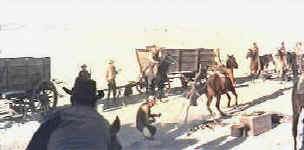 Stewart gets the taut end of a rope. ©Columbia
Some of the Charles Lang photography is sheer poetry. A short montage of Stewart racing on his horse, silhouetted against the sky, could have been a model for a Remington series of bronzes. Mann, using "scope" for the first time, composes edge to edge for maximum impact. Still, against the backdrop of mountains and sky, close-ups fill the screen, looking deep into the characters.
The James Stewart/Anthony Mann collaboration resulted in a series of outstanding films, most notably the five westerns beginning with Winchester '73 and finishing on another high note with The Man from Laramie. Bend of the River, The Far Country and The Naked Spur are the remaining points on this star of a partnership.
The good news is that The Man from Laramie is eminently watchable from a video standpoint. The sweep of the big west is vibrantly recorded. Don't expect the widescreen anamorphic transfer to look as fresh as a movie made in 1999. There is some minor reduction of color saturation, but it is not obvious. Dirt and scratches invade in a few instances, but again, this is minor. There were a couple of instances of image compromise due to what appear to be digital tape tape dropouts. Consistently sharp detail avoids the pitfall of excessive edge enhancement. Significant grain is frequently apparent, but it is tightly controlled. You can choose between Dolby matrixed two-channel stereo or the original three channel mix, which occasionally places dialog in the left or right speakers. Either way, the mix is clear and clean.
The Feature Archive has articles ranging from Akira Kurosawa to Blonde Bimbos, The Heistmasters and Frank Darabont.



Click on the image above for a "dream interview" with director John Ford.
Check out the Movie Poster Archive for short bios and images of Susan Hayward, Kirk Douglas, Katharine Hepburn and many more. This month's featured star is Clark Gable.


Imaging Science Foundation promotes proper standards in home theater viewing. ISF trained technicians offer monitor calibration services to consumers. The difference in a properly calibrated monitor can be astounding. Click on the image to find an ISF member near you.
HOT LINKS
National Preservation Film Board
Learn about what this organization is doing to preserve our film heritage. Want to know the guidelines for proper handling of film? This is the place.
Home Theater Reference Reviewing System



When you read a DVD review it's of utmost importance to know what equipment is being used to evaluate quality. Click on the projector to find out more.