Tank Girl/B+,B+
MGM/1995/104/ANA 2.35
Tank Girl tickled my fancy for irreverent humor. striking the right chord from the get-go. The initial laughter made riding behind the Tank Girl's apocalyptic comic book character an unusual and titillating trip. Tank Girl is a psychedelic conglomeration of found objects joined together in absurd juxtaposition and driven with non-stop energy.
This is "apocalypse hip." The story is typical and is rather unimportant. Not everything in Tank Girl works as well as the mutant rebels, the Rippers, a delightful combination of humans and kangaroos. There are frequent lapses into comic animation, embellishing the on-screen action. The comic book frames that introduces various sequences embellish the characters with an even more obvious raunchiness. Would the film would have played faster and looser without the multimedia intrusions? Perhaps. but they are still entertaining. Director Rachel Talalay has a far-out sense of style and a wild eye for set compositions.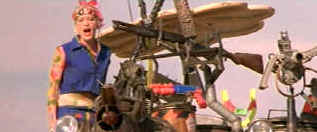 Tank Girl is ready to rumble. ©MGM
Lori Petty is terrific as the title character. Petty delivers her punchy and sexual dialogue with Brooklynese brio. Decked out in leather and chopped punk hair, Petty manages to keep her humor through some distressingly sadistic confrontations. Malcolm McDowell positively inflates himself with glee assaying the villain, a power mad water magnate on a dry planet. The sadistic relish inherent in this character is reminiscent of the young Droog Alex in A Clockwork Orange. Tank Girl moves at lightning pace and if you go with the flow and are not offended by the black and sexual sense of humor, it could be a lot of fun.
The explosion of color and wisecracks is a terrific DVD showcase. Tank Girl fires away at will. The image is quite good, mostly very sharp. Contrast levels are excellent. Dark and light scenes have equal helping of image snap. Colors are an explosion of excitement. The Dolby Digital 5:1 soundtrack delivers the punchy heavy metal music for maximum impact. Effects are highly directional. The clean dialogue and full range music will not disappoint.

The Movie Poster Archive includes extensive poster images from the films of stars like Susan Hayward, Kirk Douglas, Katharine Hepburn and many more. Our featured star is Lana Turner.
---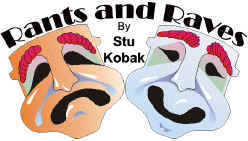 A new Films on Disc space dedicated to purging accumulated home theater angst and other movie related frustrations, with a measure of praise to balance the vitriol. The first column takes on:
Inserts and the Pop-Up Window
---


Selections from the Feature Archive include articles on Akira Kurosawa, Frank Darabont, Blonde Bimbos, Hollywood Street Gangs, or Vietnam: The Hollywood Pariah, and many more....


Catch the Hollywood take on Blonde Bimbos by clicking on the image above.
---