Small Time Crooks/B,B
Dreamworks/2000/95/ANA 1.85
Small time pleasures are like delicious cookies: they bring a smile to your face but they don't raise your level of culinary consciousness. Small Time Crooks, pretty much a throw-back to early Woody Allen, is a simple idea embellished with the same intensity that superstar cookie baker Frenchy piles on the decor.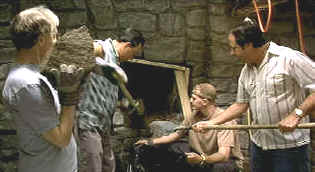 The gang that couldn't dig straight? ©Dreamworks
Ray is a down and out loser looking for a big score. An abandoned pizza parlor supplies inspiration for Ray's scheme to rob a bank. Never mind that Ray has already spent time in the jug for bungling a bank job. Ray's sarcastic muse is Frenchy. She has a pithy observation about every lamebrain Ray move or observation. Their bickering is reminiscent of Jackie Gleason's The Honeymooners. Ray convinces Frenchy that this is her last chance to rise above a life buried in cuticle clipping.
Ray's gang of losers ensures that everything will go wrong. But Frenchy's cookie creations turn out more than just a front for a tunnel disaster. Allen picks the last chocolate chip out of the material, finding fault with everybody that comes into the frame of Small Time Crooks.
Tracey Ullman is sheer delight as Frenchy. Her way with a word is blue collar magic, her appetites for sophistication a marvelous display of comic joy. Allen's carping banter is entertaining. His got this loser down pat. Hugh Grant adds a rich vein of smarmy erudition. The rest of the crew includes an inspired ditzy May played by Elaine May, Michael Rappaport sporting an idiotic grin with blissful innocence, and Jon Lovitz with fire on his mind.
Take enhancement out of the equation and this is a first rate looking DVD. However, there's too much extra information because of the enhancement, marring the picture. Too bad. Color saturation is natural and accurate. There's a nice variety of skin tones on display, lots of interior design details are enriched by the range of color and the picture packs good punch. On the sound side, this is another Woody Allen mono recording. The jazzy score works fine in its simple plain execution. Dialogue is a trifle thin and the entire production would benefit from a goose in the audio.


Truman Show/A,A-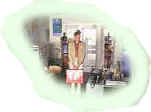 Powered by the consummate taste and directing perfection of Peter Weir. Jim Carrey gives a marvelous performance. Not to be missed!
---


Selections from the Feature Archive include articles on Akira Kurosawa, Frank Darabont, Blonde Bimbos, Hollywood Street Gangs, or Vietnam: The Hollywood Pariah, and many more....
Sturges Emerges


Preston Sturges was Hollywood's resident comic genius for more than a decade. His movies are timeless. Click on his image to read all about it.
---

The Movie Poster Archive includes extensive poster images from the films of stars like Susan Hayward, Kirk Douglas, Katharine Hepburn and many more. Our featured star is Humphrey Bogart.
---

Click on the DVD MIA symbol for profiles of DVDs missing in action.
Add films to the DVD MIA Master List by filling out a simple form. Click Here