Truman Show/A,A-
Paramount/1998/103/WS 1.85
The Truman Show is not to be missed! Powered by the consummate taste and directing perfection of Peter Weir, the film is not only original, it is beautifully filmed with meticulous attention to technical and set details, a hallmark of all Weir films.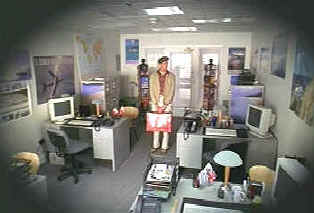 Travel posters are amongst the brilliant details. ©Paramount
The Truman Show is a television production born on the wings of baby Truman and created by Christoff. It is a television show like no other, for a world in which Truman will grow and be watched by millions of viewers has been created, unbeknownst to Truman, whose world forever will be peopled by actors playing life around him. The needs of the show dictate the Truman's fate. An actor with a contract gripe means that Truman loses a father in an accident at sea. Truman is the ultimate puppet, manipulated by his creator in the perfectly controlled environment of Seahaven Island, built under a fantastic dome that strives to hide its artificiality from Truman at every turn.. Each moment of Truman's life is scrutinized by cleverly placed and undetectable cameras. The cameras never sleep and the show is broadcast twenty four hours a day.
What happens when Truman begins to suspect that something is amiss? The every day acceptance of his daily routine becomes suspect at every turn. It's a fascinating script, often hilarious with a dark edge at its core.
Jim Carrey, like him or not, does a terrific job as Truman Burbank. Carrey's gift for innocence is mined to magnificent effect. After seeing the film for the second time, I was even more impressed by the depth of Carrey's performance. It's a very dark film and the second time around made it even harder to laugh at some of the humor at Truman's expense. The overpowering sadness of the situation wraps its tentacles around you just as Seahaven is choking off Truman's lifeblood. Along with Carrey, Ed Harris gives a frightening performance as Christoff. I actually had trouble recognizing the actor even when I realized it was him. Harris merged with the part with an eerie malevolence.
The script by Andrew Niccol (Gattaca) is a beauty, but, as with all Peter Weir films, I assume important collaboration from Weir on the writing. Casting is impeccable. From Laura Linney as Truman's wife to Noah Emmerich as his best buddy, the actors master their artificial world. Paul Giamatti keeps the control room operating full humor ahead.
This is a film that will stand up to repeated visits. Small details you might have missed once around suddenly are clear on the periphery. It's a triumph of production design, paced to perfection by Weir, and photographed with astounding artificial power. All I can say is "And in case I don't see ya, good afternoon, good evening and good night."
The Truman Show DVD is a little less than perfect, with some slight softness creeping into a couple of scenes. An early Paramount DVD release, Truman is not anamorphic 16 x 9 enhanced. Otherwise, it's as consistently sharp as the the repetitive details of Truman's life. Seahaven's color scheme, artificially alive, is captured with excellent polish on this DVD. Ambient space information is well preserved by the Dolby Digital 5:1 surround mix.


Selections from the feature archive include articles on Akira Kurosawa, Frank Darabont, Blonde Bimbos, Hollywood Street Gangs, or Vietnam: The Hollywood Pariah, and many more....



Preston Sturges was Hollywood's resident comic genius for more than a decade. His movies are timeless. Click on his image to read all about it.
---


Gary Morris's insightful publication Bright Lights Film Journal turns the celluloid in films from a unique perspective. Click on the image above for more pure movie views.
---
Brad Lang continues to add more interesting to the extensive collection at Classic Movies. Everything from actors and actress to your favorite directors is linked at the site.
---


Looking for a fix of irreverent flick dissection. Check out The Big Combo where four guys rave and rant about movies.
---
They may be judgmental, but that's the point, isn't it. Lots of DVD reviews plus news and more.


Click on the link to visit the judge's chambers.
---
The Movie Poster Archive include extensive poster images from the films of stars like Susan Hayward, Kirk Douglas, Katharine Hepburn and many more. This month's featured star is Kirk Douglas.
---