Saint,The (TV)/B,B
A & E/1966/155/FS 1.33
Some television shows that sported popular appeal passed me by without so much as a glance. The Saint, the pre-Bond Roger Moore vehicle, was just one of a legion of television programs that fit into that category. Now, A & E was begun a roll out of the show and I sat down to see what I was missing.
The first 2 DVD disc set contains six saintly episodes all running approximately 52 minute each. The Saint plied his Swiss knife style for 118 episodes beginning in 1962 and winding up in 1969. Part cat burglar, part detective, Simon Templar aka The Saint originated in the 1920's fiction of British writer Leslie Charteris. Known for his charm and suave, humorous dialogue, The Saint was a natural for adaptation to the screen. The character has appeared in ten feature films, most recently with Val Kilmer in the title role donning numerous embarrassing disguises. The television series was filmed in black and white until 1966 when the producers switched exclusively to color production.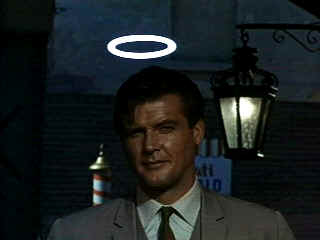 Moore glows as The Saint. ©A&E
I watched the three episodes on DVD 1. The Queen's Ransom, the first of the color episodes, is a clunky execution formed mostly by a series of chases and confrontations with the bad guys. It relies chiefly on supposedly snappy byplay between Templar and a former British fashion model turned Middle East queen. When her husband, the deposed ruler, needs financing for a return to power, the Queen's jewels must be transported from the safety of a Swiss bank into the hands of the King. Dawn Addams is awkward as the Queen while Moore does his level best to loosen her up.
I did not expect much from Interlude in Venice, the second episode included in the set. Happily, my anticipated boredom never materialized. This one is colorful, plays consistently well and is filmed with far more polish than the first. There's some local casino action, a hot local dish and a count for a hollow title,, a gangster in exile and rich dysfunctional American family trying to stay out of the dirty Venetian waters. When the attractive young American woman finds more than her chastity in jeopardy, Templar steps up to purify the water. It's fun to see Lois Maxwell, the perennial Miss Moneypenny to James Bond in the role of the stepmother. Moore is smooth.
The third episode is likewise well done and plays like a blue print for a modern espionage full length flick. A Russian scientist would like to join his daughter in the free world. When he accompanies a trade mission to Switzerland, the Russian attempts to escape but is shadowed by local Russian agents. There are some twists and turns long the way and Templar needs to stay on his toes. A good deal of fun.
The transfers are made from good source material. Color is well preserved and reasonably nicely. Contrast range is fine with good shadow detail in the night sequences. Blacks are deep. The image is consistently sharp. The dialogue is clear and the music delivered without distortion.


Screen legend Gary Cooper won two Academy Awards© as Best Actor during a career that included 114 Hollywood films. Click on his image for a bio and poster images.
---


DVD packaging can be the bane of the collector. Click on Rants and Raves for more.
The DVD Package
---


Not One Less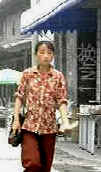 In a remote Chinese village a 13 year old Chinese girl takes determination to the limits. From master filmmaker Zhang Yimou.
---


Have you visited Home Theater Talk lately? One of the friendliest places on the Net for Home Theater and DVD discussion, you can get help for installation problems or simply share your opinions with other Vidiots.
---


Terrific resource for learning about the ins and outs of movie poster collecting.
---

ETEKNet is the web's only 24-hour, totally FREE source for all your home theater, DVD, Dreamcast, PC, and Networking tech support needs!
---


DVD news, reviews, forums: Jump right in!
---


A love of movies drives this small DVD production company, Synapse Films. Currently specializing in horror and cult films. Watch for new DVD releases of film festival independents as Synapse branches out.
---