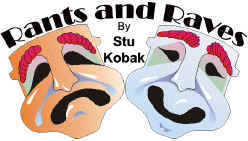 Taking pot shots at movies, movie-going and all things home theater isn't exactly a unique pastime on the Internet. It's probably a lot more prevalent than doling out praise. Point of view's the thing. We all may share like interests, but we bring our histories to the table when we express our opinions. So, for what it's worth, this space will be dedicated to my headache of the moment or that exquisite drink of entertainment that's pure pleasure to share.
The DVD Package
April 6, 2001

My chief rant at the moment is the need for keeping a razor knife handy in my home theater. No, I am not protecting it from invasion. While the space is occasionally violated at inconvenient moments, home theater madness has not yet taken me beyond reality. No razors for interruptions. No, the reason for the sharp instrument is to open the ever growing number of DVD packages that defy the ability of my fingers to function in a calm and purposeful way. From the very beginning, DVDs in Amaray Keepcase packages or any of their cousins or bastards have used a strip of tape at the top of the package to keep it sealed. A small arrow indicated where to begin removal of the tape. Thank God I never had to take one of these tapes off as part of an intelligence test. But now, in a futile attempt at an additional layer of security, manufacturer's are taping three sides of the already difficult to open package. In the time it takes me to open a DVD, I could have eaten an extra slice of pizza. Doesn't anyone get it? Taping DVD packages so tightly that they may never oxidize (hmmmmm?) won't stop anyone from scrumptiously sliding a spiffy new cloth package of Lawrence of Arabia down the old trouser front. So, zip it up Mr. manufacturer and let's take the tape off!
One of the late found pleasures of laser disc watching was the discovery of a simple way of taking off the shrink-wrap. A savvy laserman, a paradigm salesman at one of the better customer service oriented distributors of laserdiscs rapidly rubbed a sealed laser across his pants leg and voila, the dreaded wrap was now open. No such luck for DVD. Not yet anyway.
Special Editions

Who would have imagined the preponderance of DVD special editions in the hey day of laser disc. Every time the Criterion Collection announced a new package filled with extras, it was joy in laser land. Over the years, more studios jumped in with delicious special editions, but not with the unparalleled frequency we get special editions on DVD. Let's not forget the generous contributions of film principals in setting their thoughts alongside their DVD images. Believe me, they ain't doin' it for the residualsJ


The Adventures of Baron Munchhausen/A,A-


Director Terry Gilliam's richly detailed interpretation of the outlandishly imagined and fabricated exploits of the legendary eighteenth-century German adventurer and storyteller.
---

---

Need a daily fix of movie quotes. Reel Quotes Newsletter has the answer. Click on the Reel Quotes symbol for more.

The Movie Poster Archive includes extensive poster images from the films of stars like Susan Hayward, Kirk Douglas, Katharine Hepburn and many more. Our featured star is Frank Sinatra.
---


Selections from the Feature Archive include articles on Akira Kurosawa, Frank Darabont, Blonde Bimbos, Hollywood Street Gangs, or Vietnam: The Hollywood Pariah, and many more....
Robert A. Harris


Tilting at Hollywood
He's part of the dynamic duo that restored Lawrence of Arabia, Spartacus, My Fair Lady and Vertigo. Harris rides a white horse into the for the cause of preserving our film legacy. Click on the image to read more.


Have you visited Home Theater Talk lately? One of the friendliest places on the Net for Home Theater and DVD discussion, you can get help for installation problems or simply share your opinions with other Vidiots.
---