Legally Blonde (SE)/B+, B+
MGM/2001/96/ANA 2.35
Legally Blonde is hot pink comedy executed with hip swinging hilarity. How can you resist a film that features fashionable fillips of wisdom like "Whoever said orange is the new pink was seriously disturbed."
Elle Woods, a Bellaire babe brought up in the shadow of Aaron Spelling. Elle is the pride of CULA (California University Los Angeles), a 4.0 fashion major and the quintessential Delta Nu sister. When Elle's boyfriend dumps her in preparation for Harvard Law School, Elle decides to enter Harvard Law herself. It's a great set-up layered with precious details.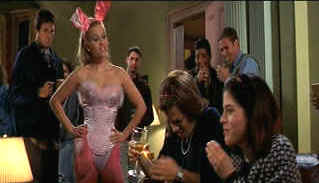 A honey of a funny bunny. ©MGM
Reese Witherspoon is the remarkable actress that brings Elle to life. Witherspoon can't seem to do anything wrong these days with uncanny comic portraits such as Election and Pleasantville. Witherspoon is clearly the best working comic actress around. Her command of zany dialogue delivery could have topped the box office in any era. With Legally Blonde's hilarity bursting full tilt from the word go, I imagine the actress must have masked a constant smile on her face during the many small precious moments executed with casual elegance in the film.
Costume designer Sophie de Rakoff Carbonell delivers masterfully brash fashion creations. Just imagine, WItherspoon had 57 costume changes, multiple hair styles, and a perfect expression to go with every situation. Production design is brilliant. Director Robert Luketic displays terrific sense of proportion in doling out the humor. Features like the charming dog Frazier are never overused. Even the full-plate fashion statements are dished out without having them pushed in your face. Not that you can help but smile at every over produced outfit worn with blissful confidence by star Witherspoon.
. In keeping with the thematic material, Legally Blonde comes to life in an explosion of DVD color. From day-glow orange to cherry red range is well controlled with no bleeding. The hot colors are hot enough to inspire some of the laughs. Blacks are deep, shadow detail excellent. Good skin tones make for a natural look, though the make-up is plied on heavily for effect on a number of actors. Overall light output packs theatrical weight. Most scenes are very sharp, yet a touch of softness creeps in here and there. The Dolby Digital 5:1 soundtrack is upbeat and energetic.
Audio commentary delivered by director Robert Luketic, producer Marc Platt and star Reese Witherspoon is informative and funny. The three principals with comfortably together. It's one of those commentaries that makes you feel like you're spending some time with these people.
Legally Blonde is terrific comedy equally attune to teen and adult sensibilities.


Selections from the Feature Archive include articles on Akira Kurosawa, Frank Darabont, Blonde Bimbos, Hollywood Street Gangs, or Vietnam: The Hollywood Pariah, and many more....



Catch the Hollywood take on Blonde Bimbos by clicking on the image above.
---


Lady Eve, The (SE) A,C+



Wonderful classic comedy from writer/director Preston Sturges. Henry Fonda and Barbara Stanwyck star.
---


DVD packaging can be the bane of the collector. Click on Rants and Raves for more.
The DVD Package
---




Excellent resource for movie review links, with many early looks.
---


DVD Demystified makes it all clear. The official Internet DVD FAQ for the rec.video.dvd Usenet newsgroups.
---


The official site for information about the great comic director. A treat for connoisseurs of classic Hollywood madcap.
---


News, information, features about current films in theaters and in the pipeline. Easy to use interface.
---

Jim Doolittle
ISF Instructor. Premier calibrator and expert front projection system setup technician in the Boston area.
---