Howling/ B,C+
MGM/1980/91/ANA 1.85
Some things are best not shown in close-up. The werewolf transformations in The Howling may have been excellent for their time, but they still produce a smile on my face. Too much bulging facial manipulation. I like the hair by hair approach of American Werewolf in London myself. In fact, Lon Chaney, Jr.'s black and white time lapse transformations were a lot eerier to behold. At least The Howling includes a television snippet of Maria Ouspenskaya's warning to all watchers of werewolf movies "He who is bitten by a werewolf and survives, he himself becomes a werewolf." Procreation the Ouspenskaya way.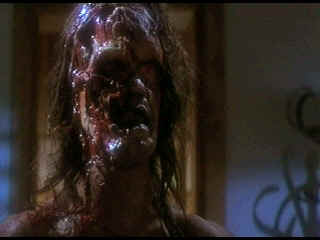 A Rick baker facial. ©MGM
TV Newscasters are great heroines in horror flicks. Karen White gets herself involved with a serial killer story and the fall-out from her up close and personal involvement is a quiet trip to the country to calm her nerves. The Colony, a retreat run by Dr. George Waggner, seems like a bizarre choice to clean the heebie-jeebies out. Every other resident seems to be suffering from chronic horror movie syndrome. Her husband gets a bit too close to one one hungry nymphomaniac, and Karen takes too many calming walks in the spooky woods. My advice is never trust anyone named "Quist."
Director Joe Dante is truly a horror aficionado. He even named one of his main characters Dr. George Waggner after the director of the familiar 1941 version of The Wolf Man.. Dante uses point of view camera work that has long since become cliché de rigor for every would-be horror director. At least Dante makes sure that The Howling retains a sense of hoot.
Dee Wallace can't make Karen White very convincing, but at least she can cringe with the best of the horror actresses. She also manages to look relatively unconcerned on those long walks in the woods. Patrick McNee is pretty bland as Waggner. The chewing scenery award goes to Elisabeth Brooks as Marsha Quist.
The anamorphic transfer is pretty decent. Grain is relatively tight. Perhaps there could have been a bit more snap to the picture and black levels certainly could have been deeper. Considering all the dark scenes, The Howling shadows are revealed effectively. Images are fairly sharp. Color is slightly muddy. Dolby Digital 2 channel mono is clear with creaky effects sounds amplified.

Searchers, The/ A,B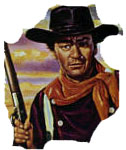 John Wayne invests Ethan Edwards with enormous dignity and determination. A classic western from director John Ford. Mesmerizingly beautiful.
---


With the introduction of the Columbia Super Bit collection it looks like a new wave of repackaging marketing might be just around the corner.New Edition: Bit by Bit
---


Selections from the Feature Archive include articles on Akira Kurosawa, Frank Darabont, Blonde Bimbos, Hollywood Street Gangs, or Vietnam: The Hollywood Pariah, and many more....



Click on the image of The Heistmasters for an interesting feature on the tough guys that pull off the big jobs.
---