Fast and the Furious (SE)/ C,A-
Universal/2001/107/ANA 2.35
Gentlemen, rev up your engines, get ready for an all out non-stop testosterone assault. There's not much between the tires in The Fast and the Furious, but it certainly lives up to its name.
Somewhere in the studied and empty plotting of The Fast and the Furious there's a traditional teen movie at work (paging Rebel Without a Cause!), a cop thriller appended (Donnie Brasco where art thou!), and a typically tepid outsider romance. Don't look for any subtle or clever touches.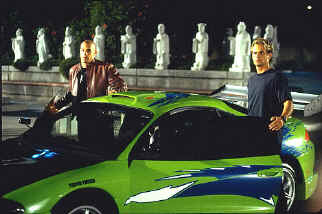 Brian, Dom and the Green Machine. ŠUniversal
New kid on the block Brian O'Connor keeps showing up at the luncheonette where Mia Toretto works. It's the local hangout street dragsters. Beefed up stock cars pull up to the curb like bulls banging wooden Corrida barriers. Brian flirts his way into a fight broken up by Mia's brother Dominic Toretto. Later, after a night street drag contest, Brian bonds with Dom. He's part of the gang. But complications arise, cars explode, gang conflicts are met, and there's time for one last full tilt drag joust.
I can't say as I cared for Paul Walker very much as Brian. Maybe it's because I never believed him. Vin Diesel is tough enough as Dom. Jordana Brewster does the closest thing to acting as Dom's sister Mia. Michelle Rodriguez, so terrific in Girlfight gets to throw one punch and act tough, but she's pretty much wasted.
Director Rob Cohen had a couple of excellent early successes with Dragon and Daylight. Unfortunately, he's not meeting the promise of those earlier efforts. While the action and stunt work in The Fast and the Furious are just fine, it amounts to nothing more than the parts in those suped-up engines. If you want to watch twenty-somethings in tight scanty clothing posturing around hot cars, The Fast and the Furious might be your ride.
From the first moment Brian's day-glo green muscle machine fills the screen to Dom's final ride into the sunset, bright, bold, color is a signature of The Fast and the Furious. Color saturation is virtually perfect. Contrast levels are beautifully controlled. No blown out daylight sequences or edgy night ringing. Blacks are deep and reflectively lustrous. Resolution is dead nuts on on most scenes. Road tight is tightly contained. Choose between Dolby Digital and DTS decoding. The DTS is loud, loud, and louder. Make sure to drop levels at least 5dB. Both tracks are active and throaty.
For those wanting to get under the hood of The Fast and the Furious, the special edition provides an enormous amount of detail. Audio commentary from director Rob Cohen is articulate and knowledgeable. There are several shorts examining special effects, deleted scenes with optional director commentary, a stunt sequence dissected from every angle possible, and a making of documentary. A short feature on editing a scene to avoid an MPAA R rating is especially revealing.

To Kill a Mockingbird (SE)/ A,A



From the great novel by Harper Lee, this tale of growing up in the 1930s South is splendidly evocative of place and period. Gregory Peck is splendid. Direction impeccable.
---

The Movie Poster Archive includes extensive poster images from the films of stars like Susan Hayward, Kirk Douglas, Katharine Hepburn and many more. Our featured star is Kirk Douglas.
---


Selections from the Feature Archive include articles on Akira Kurosawa, Blonde Bimbos, Frank Darabont, Steven Culp, John Herzfeld or Vietnam: The Hollywood Pariah, and many more....
Director Walks the Wire


Balanced by an armor of movie lore and filmmaking daring, director John Herzfeld is comfortable walking the high wire. Check out this interview by Stu Kobak.
---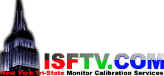 ISF Monitor Calibrations in the Tristate New York area. Lots of hardware info and frequent hardware peaks from video expert Kevin Miller. They may be judgmental, but that's the point, isn't it. Lots of DVD reviews plus news and more.
---


Mystery writer Fred Hunter digs into classic films on DVD. Check out his insightful reviews at The Classics on DVD.
---

The online site for Film Comment Magazine includes all the information you need to know about cinematic events sponsored by the Film Society of Lincoln Center.
---


Comprehensive DVD review database. Easy to use interface with specific region searches.
---
MRQE
Find reams of movie and DVD reviews at the Movie Review Query Engine, a index of reviews appearing on the Internet.
---